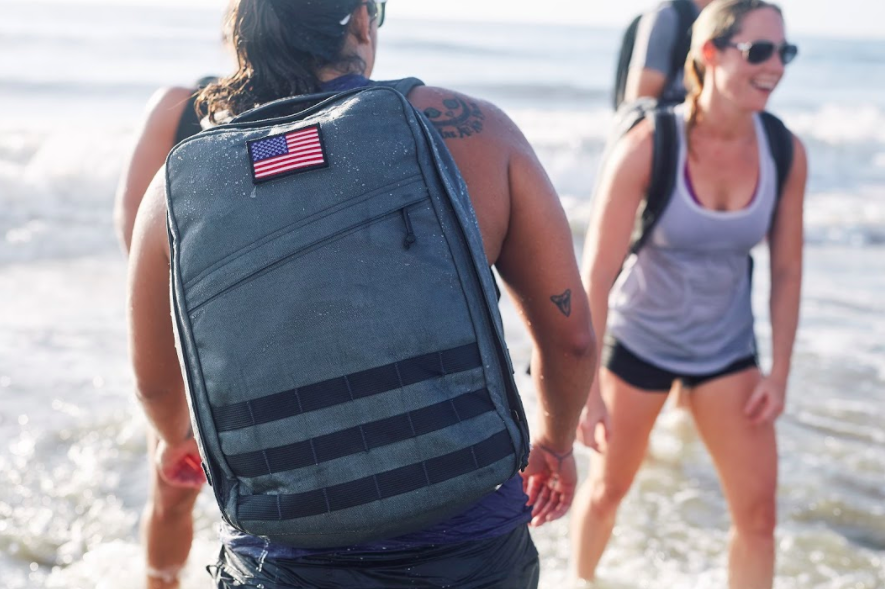 Tough women deserve a tough ruck. There's no shortage of tough women. So we had three show up for some good ol' Sunday morning Beach PT.
Before the group showed up they had little to no idea what to expect, other than bring a ruck and wear some workout clothes they could get dirty.

The group was at the mercy of PT led and programmed by Jason. They had no idea what they had gotten themselves into, because we all know Jason loves some Good Livin' even with little Ryan tagging along. He's learning the McCarthy way of life early.
The ladies were all loaded up with 20 pounds in a Curved Strap GR1. The difference between the regular GR1 and the Curved Strap is that the straps fit most women more naturally, it's also been praised by men with bigger pecs. Imagine that.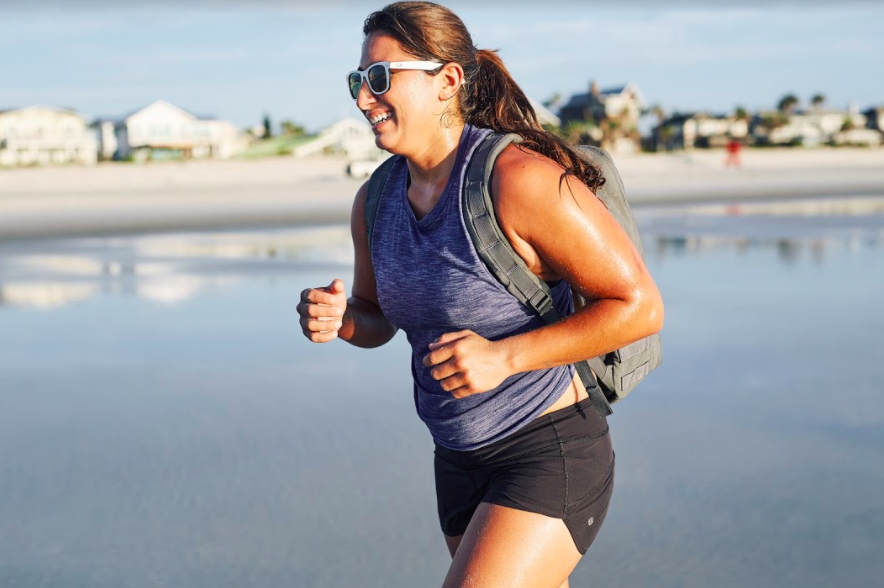 Bianca, a recent HTL finisher and newest HQ employee, explained how she felt about the Curved Strap GR1 after the PT session, "I did prefer the curved straps over the regular straps. The curved strap was an overall more comfortable fit and it allowed for more arm movement with out any pinching or friction. The weight also felt better distributed on my back."
We also asked Alexis, who recently finished her first Tough, whether she preferred the Curved Strap GR1 over the standard GR1. She replied, "Yeah! Loved it didn't feel as thick and definitely more flexible."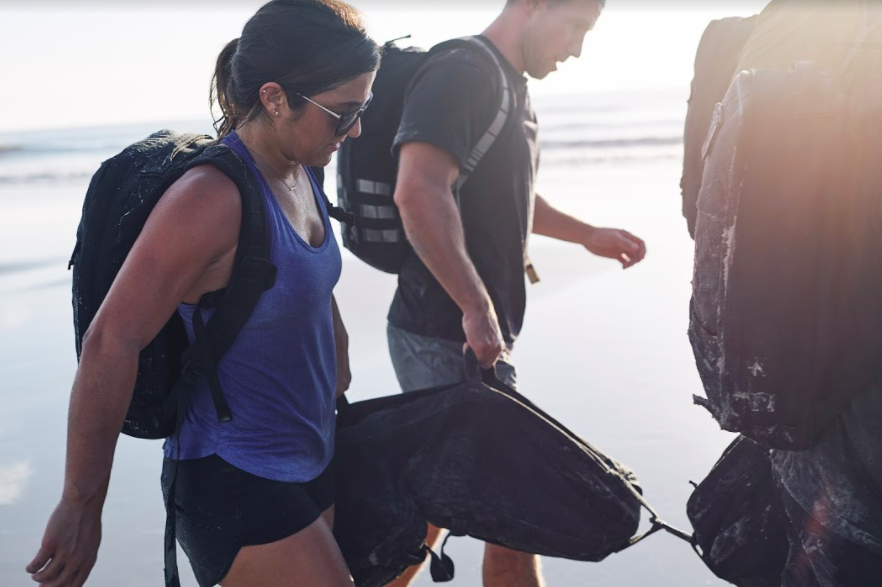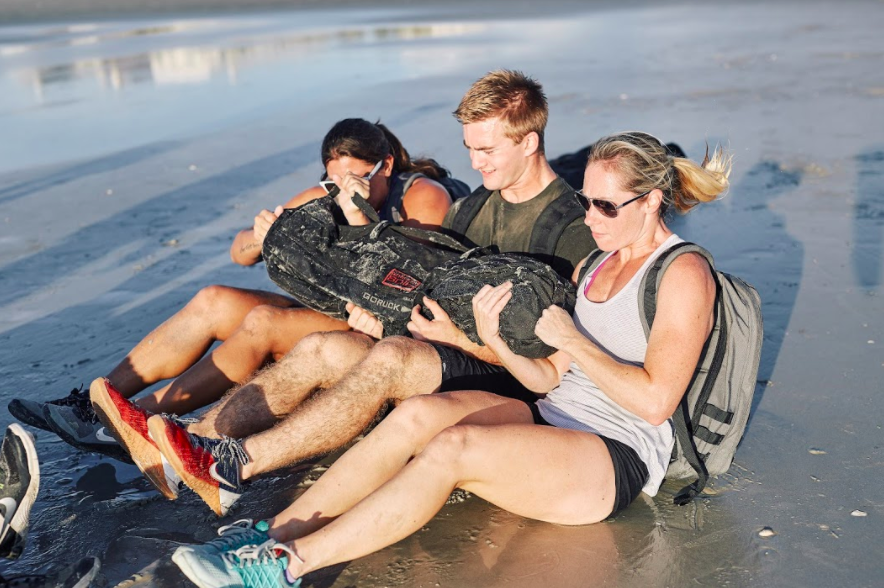 We decided it wouldn't be fun keeping this workout to ourselves. So we wanted to share the workout below, made up of eleven different exercises. We challenge you all to get a group together and share your experience with us.
THE WORKOUT
Exercise One: Run to the next beach access and back, on the soft sand. 400 meters total.
Exercise Two: Fill up the sandbags FAST. Sandbag squats until Jason said STOP, or at least 30.
Exercise Three: Sandbag lunges towards the ocean. 100 meters. Transition to next exercise.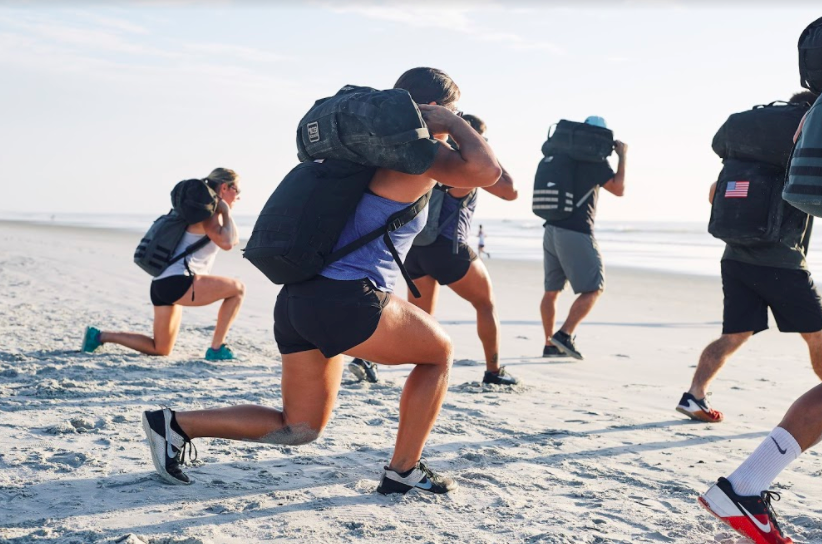 Exercise Four: Toss the sandbags all the way down to the water line, 50 meters.
Exercise Five: 50 Team Sandbag Sit-ups.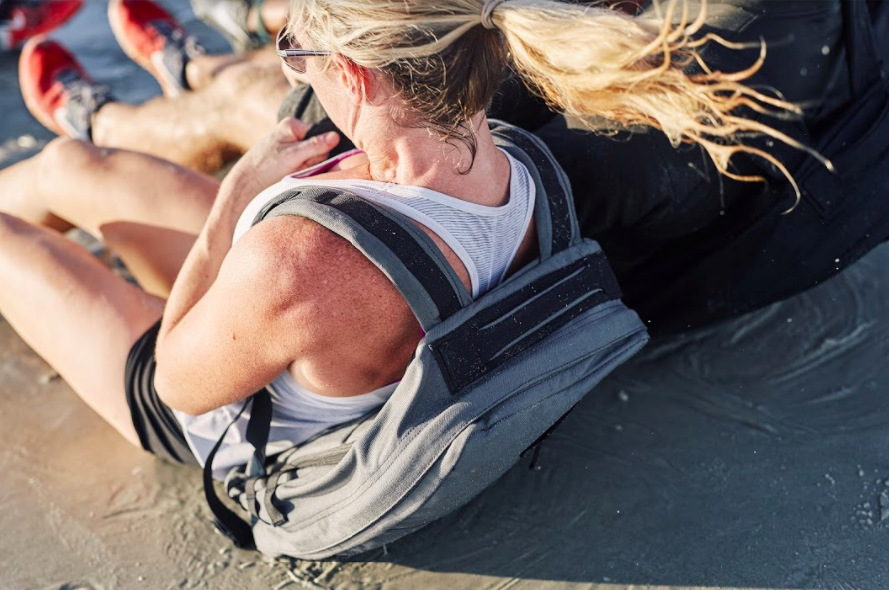 Exercise Six: Pain Train Farmer Carry while lifting sandbags up and down, 200 meters . When it gets tough, rotate your position or be tougher. 
Pro Tip: Don't drop it. Or else it turns into a cluster and Jason might yell at you for dropping it.
(See below.)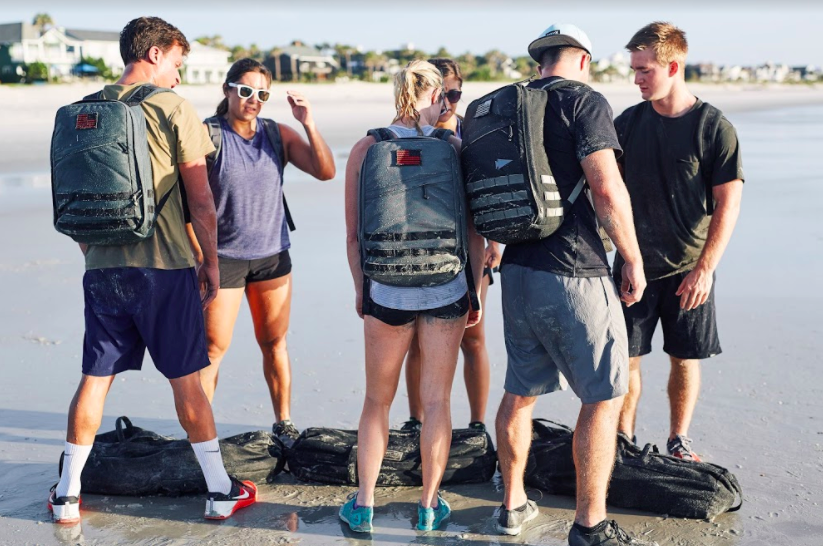 Exercise Seven: 20 Pain Train Zercher Squats.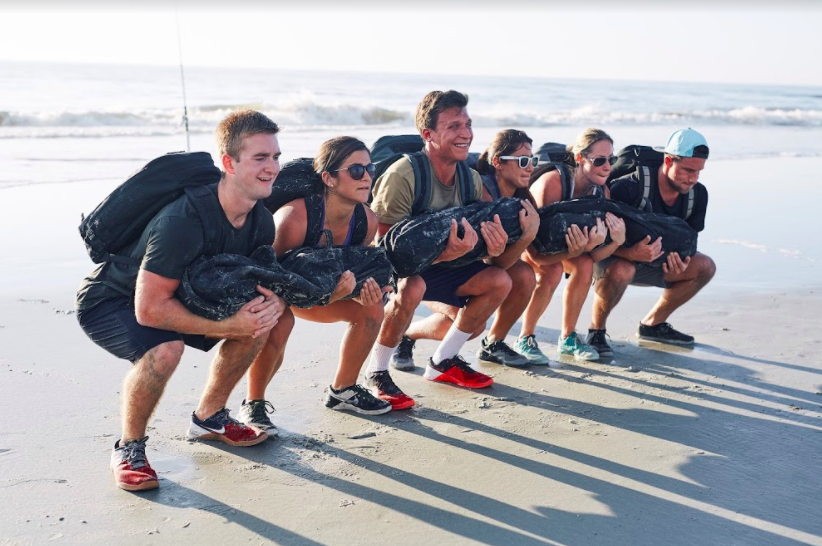 Exercise Eight: Pain Train Farmer Carry, back the 200 meters. While lifting sandbags up and down.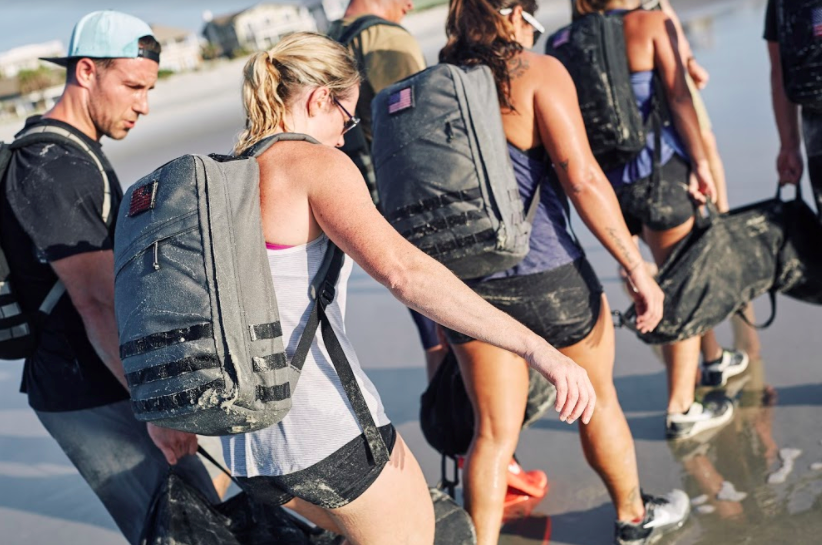 Good work, so far. Now time for a quick cool-off.
But before you start enjoying yourself too much, let's move into the next exercise.
Exercise Nine: 20 Overhead Squats.
Exercise Ten: We weren't sure of a formal name for this exercise, but basically you all stand in a circle and hold each other's rucksack and squat down low and stand back up. 20 total.
Exercise Eleven: Two minutes of flutter kicks in the surf.
END OF WORKOUT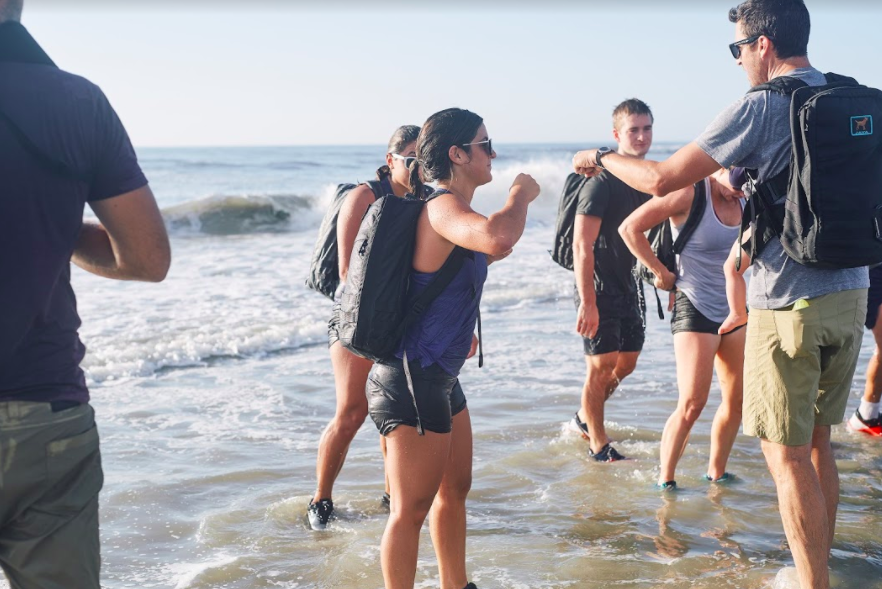 That's Bianca's "I'm so ready for breakfast" face.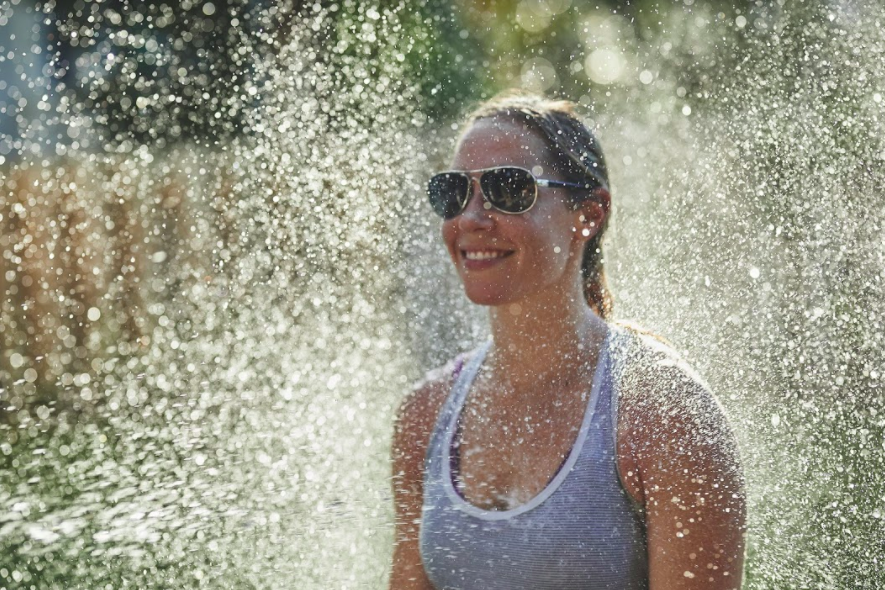 At the end of the day, the hardest part is showing up. And, maybe sandbag tosses– that's when Bianca decided she hated me the most and wanted to throw a sandbag at me. Just enjoy the Good Livin' and treat yourselves to a good breakfast or beer afterwards. We chose the latter.
Cheers, everyone. #RuckUp