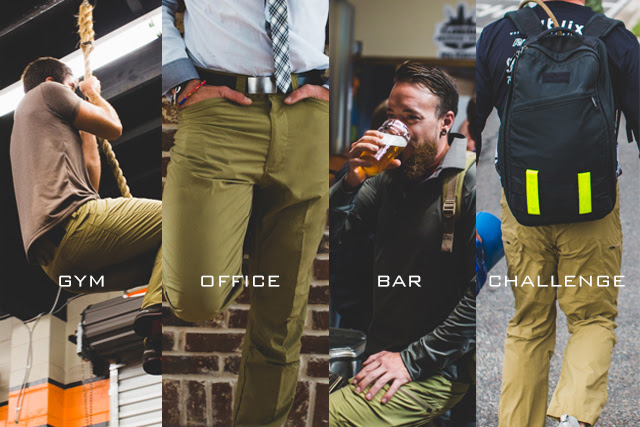 I've led 100 GORUCK Challenges – that's about 1,500 miles of rucking, just at the Challenges. I didn't want to wear my military pants because they were too heavy and too military. So I bought this really expensive pair of performance pants and they tore in the crotch, fast. Go figure, the Special Forces guy broke something weak. It was a let down, so I said fine I might as well save some money and be let down by the cheap ones. So I got this disgusting pair of tan pants at REI – and never felt good about wearing them, not for one step. They looked terrible and felt terrible but at least they almost dried quickly, and almost didn't tear. Frustrated, I went back and looked at more other more expensive brands. But they always seemed to be too technical, as if designed for a specific mountain of ice climbing or something. That sounds fun, but I just wanna ruck and get out and about town and I wanna wear the same stuff to work as I do to a Challenge as I do to the bar. Or fast forward to 2016, as I do to the kids' birthday parties. Maybe with a washing in between, if I must. I like things that work, things I don't have to question. It makes the tougher parts of life easier that way.
I've been accused of being a Budweiser drinking simple kind of guy, and I'm cool with that. Coming from the military, I've always been partial to simple stuff with a classic style, stuff that stands up to whatever you throw at it and looks cool doing it – that was the inspiration for GR1, and our apparel. So we designed and built some badass, tough performance apparel in the United States. It took us three years, and it was worth it. Our stuff is perfect for rucking, it thrives at our Challenges and in the bars we frequent all over the world. Including the ones in your neck of the woods.
But if 8 years of GORUCK has taught me anything, it's this. The toughest part of anything we build at GORUCK is the person wearing it, and that means you.
So Ruck Hard, Play Hard.
– Jason