Where the Wild Things Are was fiction until it wasn't and a huge thanks to Maurice Sendak for writing the definitive biography of GORUCK's earliest years. Some details are missing, of course, but only the unimportant ones. We're lucky to be alive, monsters are everywhere, wolf suits are a staple, and we're still so young that failure is a way of life. But we know who we are and we know where we're going and each day's end greets us with cold beers I mean hot supper. And the next adventure comes fast as long as the sun rises in the east and thank you for the beers. And for the hot supper and all the stuff in between. Namely everything.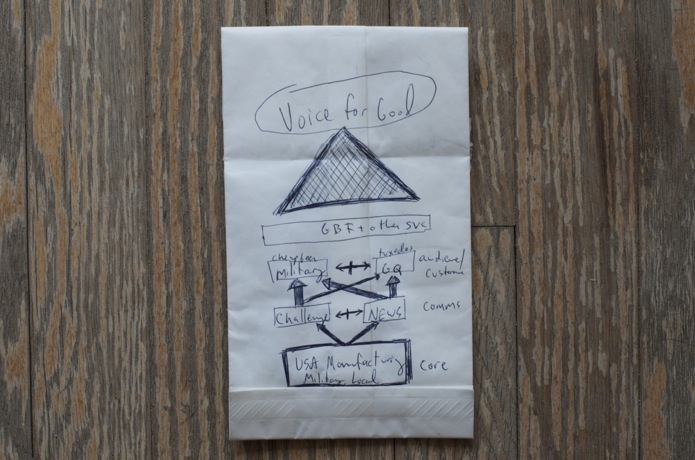 But chaos can't run amok forever. You have to know who you are before you get too busy being yourself kind of deal. As there are more of us, communication is harder and more important and in the summer of 2011 I found myself on a flight back to HQ needing to explain the vision that lived in my head. Enter the barf bag sketch. If you have no time to say something, cut to the chase. People are our core and we are USA manufacturing and the military and all GORUCK is local. We communicate what we stand for at our events like The Challenge and via posts like this on GORUCK News. The delivery falls primarily on me and our 50+ Cadre who travel the country every week of the year. Who's listening? Black, white, purple, pink, polka-dotted, young, old, male, female, civilian, military, NYC, Baghdad, GQ, who knows. Rule #1 is Always Look Cool and who can't support that so we'll keep doing our thing. This is, of course, a poor attempt to say that we don't really know who you are unless we've met and I'm not talking about Facebook I'm talking about the old fashioned way, face to face. My assumption is that you find us somehow and you tell your friends. And so on. You've built GORUCK, not us. Somehow being the key word.
Service. Those to whom much is given much is expected and nobody on their death bed ever regretted doing more for others. Especially when you have been given so much like the opportunity to serve our country. Our commitment to the Green Beret Foundation and other service organizations is what we do because it's who we are and life has taught us the hard way to remain humble till your dying breath because it could come any second.
Doing well is not life's important goal, doing good is. And whatever platform we have, doing good is success and I want us to do more of it. You'll find 'Voice for Good' circled at the top of the barf bag sketch, where it belongs.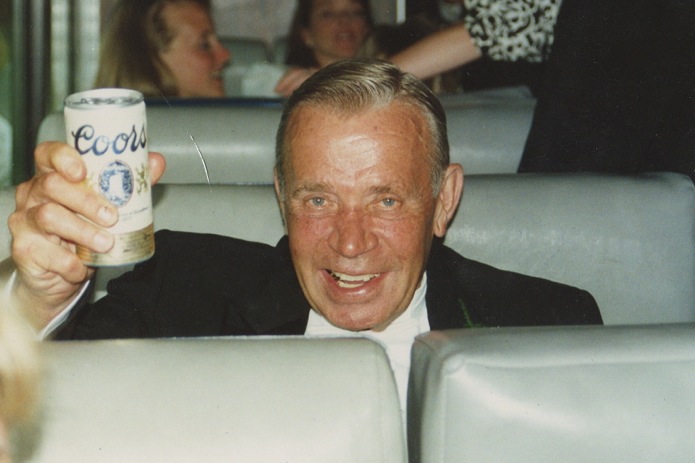 So where's the talk of bottom lines and money and profits and all that stuff. My initial reaction is to think in terms of people and the brand, not the financial metrics of GORUCK. Our preference is to throw a party or two and say come one come all. And beers and tuxedos go perfectly well together thank you very much, especially when they make you wear a tux at a wedding or something and these are my grandfather's roots that made their way from him to me to us.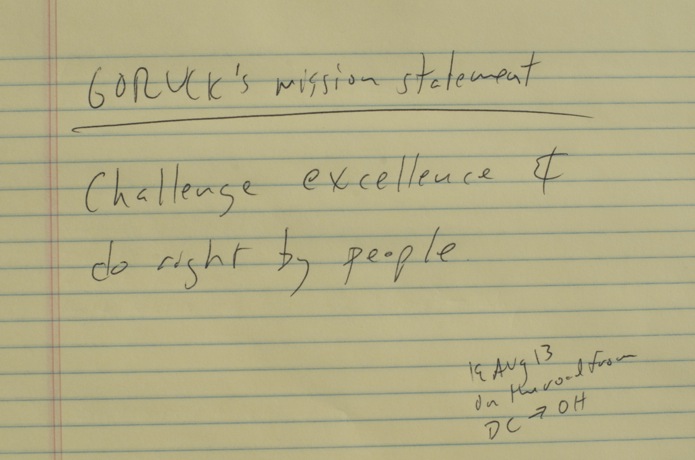 Bottling the lessons of a lifetime into a mission statement has been my goal, one unsuccessful day at a time, for the last year. All I could come up with was do right by people. It's great and it's us but not standalone because we like really fast cars and we can still do right said every Special Forces guy ever. Challenge excellence is a pursuit that never ends. Yesterday's perfection is tomorrow's nightmare kind of deal so find a better way and it never stops. If you like this kind of approach, GORUCK is the place for you.
We have two grades, A and F and A- rounds down. Excellence is the standard and please hold us to it. So while mission statements are typically internal, I want you all to know what we stand for: excellence and people. I'm grateful to everyone who works so hard because they believe in who we are and my take is that if you challenge excellence and do right by people good things will happen. Build it and they'll come style. And as always, thank you all for the opportunity to have the time of my life running GORUCK.
The State of GORUCK is an ongoing series that aims to increase transparency between us and you. If you have questions, any questions, please post them in the comments section.