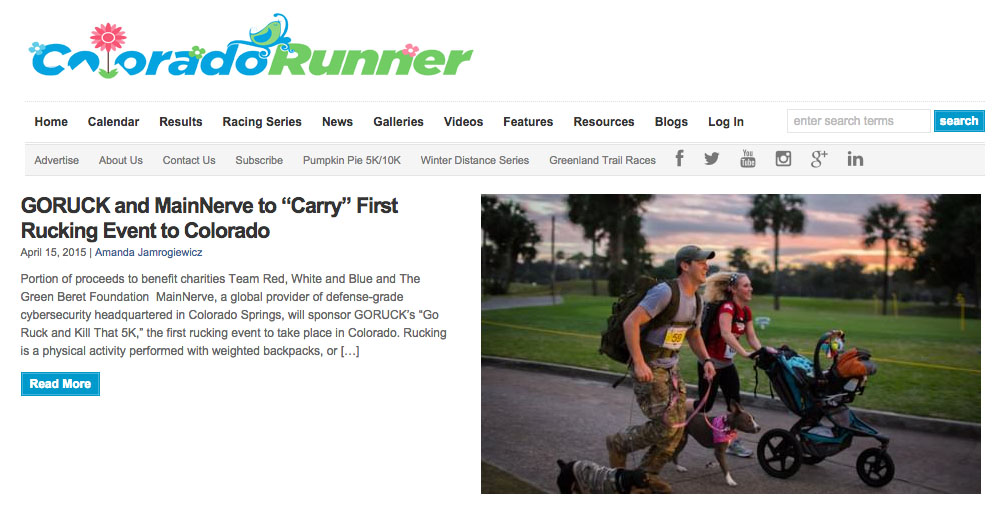 From Colorado Runner Mag:
"MainNerve, a global provider of defense-grade cybersecurity headquartered in Colorado Springs, will sponsor GORUCK's "Go Ruck and Kill That 5K," the first rucking event to take place in Colorado. Rucking is a physical activity performed with weighted backpacks, or rucksacks, similar to the training that Special Forces operators receive.
GORUCK produces military-grade rucks and hosts several events and challenges nationwide throughout the year. This 5K event is aimed at uniting the community to socialize and bond through exercise.
"MainNerve is excited to bring the excellence and camaraderie of Special Forces-style training to fitness-minded Coloradans of all abilities," said Bruce Parkman, CEO of MainNerve, and a former Green Beret in the U.S. Army. "We also are proud to be a part of GORUCK's support of the Special Forces community through the Green Beret Foundation."
Relying on the lessons learned from the world's most elite units, the GORUCK 5K rucking event has an entirely different model for creating fitness communities.
"With most 5K runs, people show up early in the morning, eat a banana, race and go home without ever talking to others or meeting someone new," says Jason McCarthy, founder of GORUCK and former Ft. Carson Special Forces soldier. "A rucking 5K differs from a traditional 5K because running is a solo race against each individual. In rucking, participants can shift the weight in rucksacks to even it out if one participant becomes tired. Participants are encouraged to talk to fellow participants, meet new people, and bond over the shared experience."
In addition to the social aspect, rucking is a different form of exercise. Whereas a 5K completed through running is largely a cardiovascular activity, rucking is primarily active resistance training because of the strength training involved with carrying a weighted rucksack.
Participants fill their rucks (backpacks) with any weight with which they are comfortable, which allows the activity to be easily adaptable to any level of skill or fitness.
Anything more than nothing is rucking as long as you're having fun," says McCarthy. "Our goal is to get people to be more physical and socially active together."
The event is open to all ages and abilities. Participants are greeted at the finish line with dollar beers provided by Stone Brewery, another event sponsor.
GORUCK has partnered at the national level with Team Red, White and Blue to support its mission of enriching the lives of America's veterans by connecting them to their community through physical and social activity. "Kill That 5K" fits the bill and GORUCK will raise awareness for its ongoing partnership with the Green Beret Foundation as well as donate $5 from every paid registration to Team RWB."
Read the full article here.