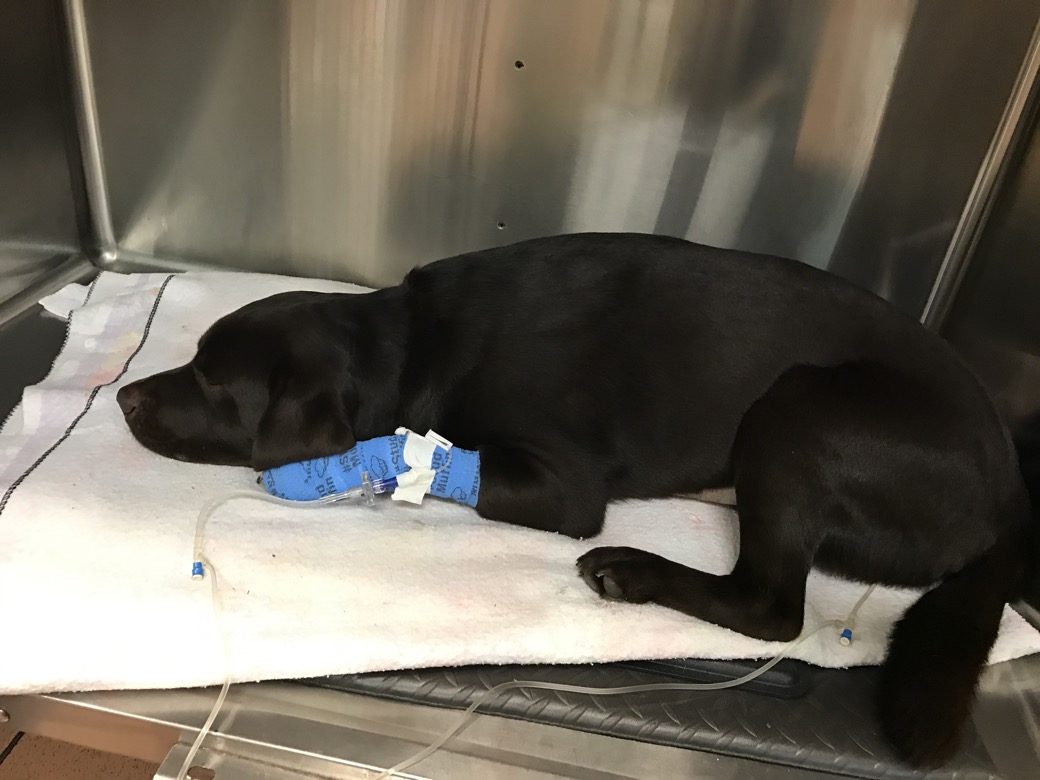 It's a good thing Monster's a fighter, because last night he was fighting for his life in a metal box.
The history: for a week or so, he's been trying to hack something up. Nothing crazy, once or so a day, usually on our 4 mile bike/run to work. I thought, Monster ate something, what else is new, it's probably a sock or something more fun, it'll pass in time. Saturday, though, he became very lethargic and depressed, wanted to hang out by the door at home and was generally avoiding me, which is the opposite of how he is in his daily follow me from room to room life. Something was more wrong.
He couldn't keep breakfast down, we later fed him a dinner of rice with chicken broth. At 2am, emily (who was up with lil' Ryan) told me Monster threw up all over the bathroom. I cleaned it up (and later broke the plumbing moving the sink a smidge to get at more of it, I mean come on Big Guy upstairs cut me a break lol). I slept downstairs with Monster, he hung out by the door, I was on the couch.
We went to the Vet's Sunday morning, the X-Ray was unclear but I made the decision to proceed with surgery because this wasn't getting any better. In fact, the opposite, and Monster was very un-Monster-like. Midway through surgery, the doctor called me with a huge scare brief about how bad it was. Monster had eaten a rope toy that they cut out, but much of his intestine was damaged beyond repair, so they would have to cut it out and re-attach the two healthy pieces. The Doctor told me he had a 50/50 chance of living, and did I want to do the procedure? I said, as opposed to what? She said, "euthanasia."
I was reminded of my grandfather who was told by a Doctor in the Bahamas long ago that they were going to have to cut his son's leg off after a motorcycle accident. My grandfather punched the Doctor and said the hell you are. He got him to Miami as fast as possible and made a full recovery.
Anyway, no I didn't punch anyone but I said I like his chances of surviving the surgery better than surviving euthanasia so let's go ahead with the surgery. I drove to the surgery center after giving em a huge hug and shedding a tear or two with her at home. She would've come except someone had to watch our three kids, including 5 day old Ryan.
When the surgery was over, both Dr.'s who did the operation said it went well all things considered. Andy, Lee and I drove Monster to an overnight care center – I rode in the way back of the GORUCK Truck, stroking a heavily sedated Monster and whispering to him that I love him.
We got him to the overnight care center, and he got his "room" in a metal box. But the doctor here was great, her husband an Air Force man, her demeanor as you would hope: positive and confident. I took a pic smiling because Monster prefers smiles to tears no doubt and then I went home to not sleep after saying good-bye to Monster, hopefully not for the last time. After all, you never know.
I called several times and the night brought good news. The risk is that the intestines don't work, that there's an infection. His blood sugar is high (that's good), blood pressure back up post-operation, his protein levels are good after some plasma. He went outside to pee.
The first 24 hours are the most important, the next 24 the most important after that, etc. We're not quite at the 24 hour mark post-op, but Monster by all accounts is doing much better. He's got a pep in his step already, and the new doctor, an Internist (Internal Medicine Specialist), said he's young and strong and seems to be doing as well as we could hope for. She even said he didn't lose that much of his intestine.
Anyway, he's got a ~3 day stay at the hospital in front of him. None of which is guaranteed, same as all of the days of our lives. But if he weren't a fighter, he'd be dead right now. So here's to Monster, and to fighting till your dying breath.