Twice a year there's a big insider only gear conference called Outdoor Retailer in Salt Lake City. This year, I went for the first time because I've taken a much more active role in the development of our apparel line. And when you're on East Coast time for a West Coast gig, you wake up black is the sky early and you ruck around town for a few hours before you do anything else.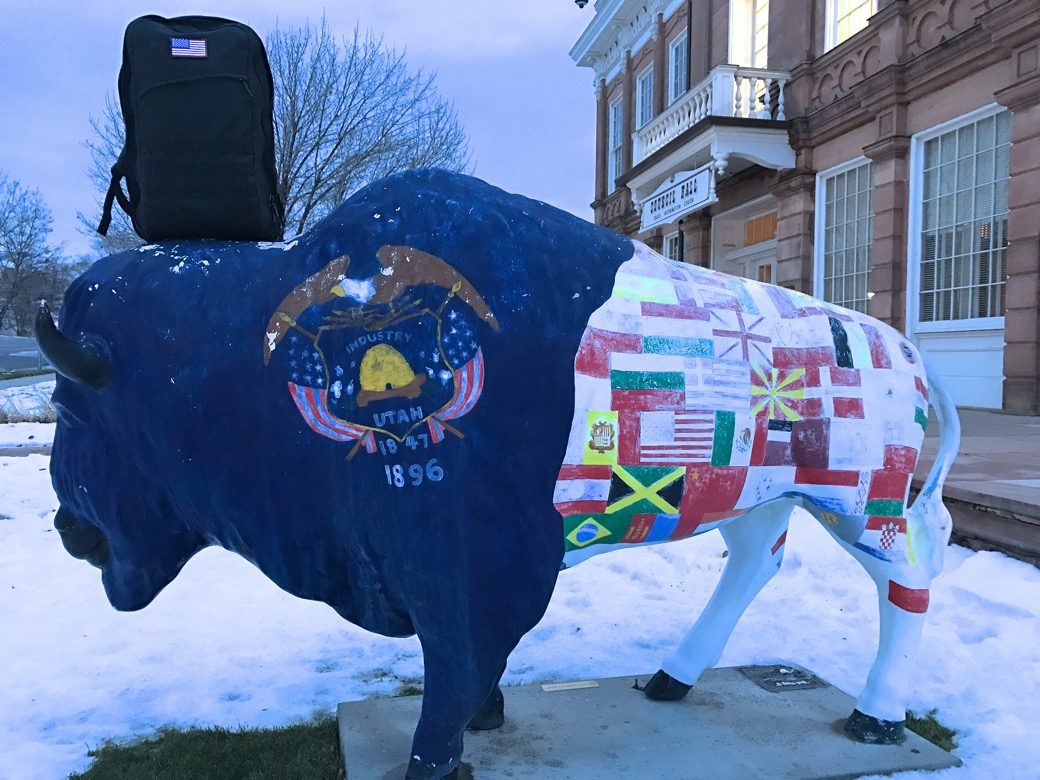 Adventure and there are things to see. If you haven't spent any time in Utah, you're missing out. A couple of my past adventures there included the GORUCK Challenge, hiking in Sundance where my uncle lives, and in my past life, we did some training in downtown where we called in simulated air strikes onto targets like the restaurant across the street in prep for heading to war in Iraq.
Yeah, that was pretty cool, gotta say.
Anyway, on to this life and gear and fabrics and brands and lots and lots of colors that clash aggressively with red, white, and blue – like fuchsia and lime green and magenta. As if the more louder pastel color, the more (fun)? I dunno, I guess it has its place. But I wouldn't want to wear it off the ski slope (or on it, actually) and until I left the show in the afternoon for meetings at a local bar, which unites us all, I felt myself an outsider, which is a good thing because it's a clear line of demarcation.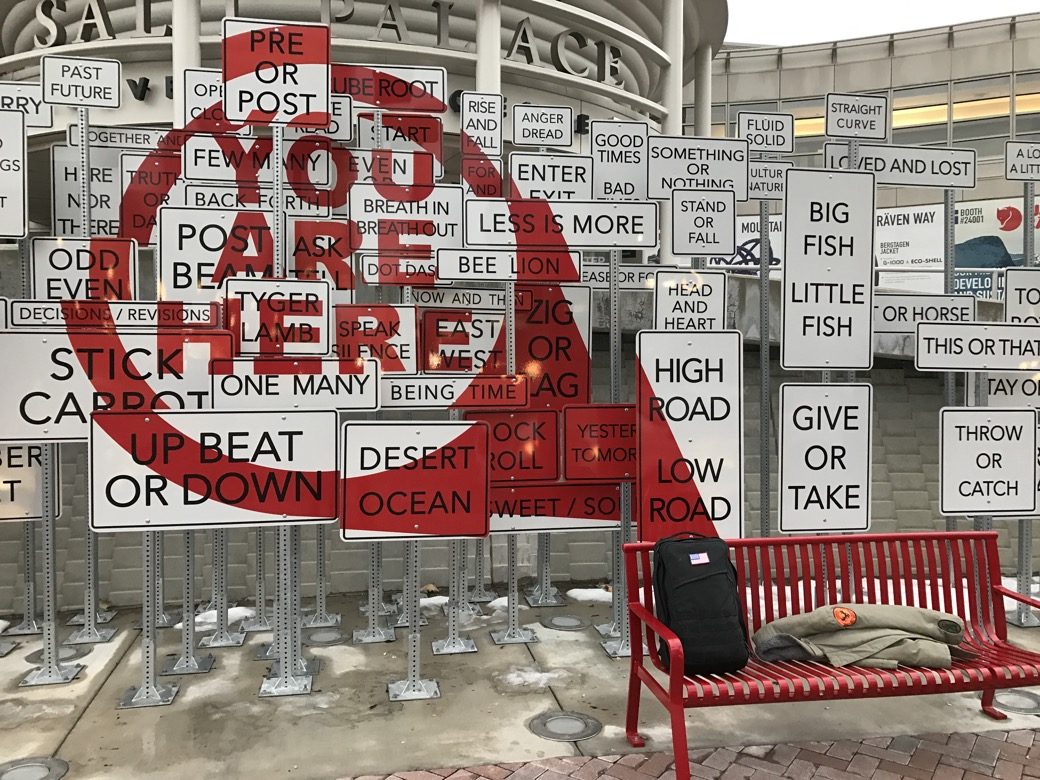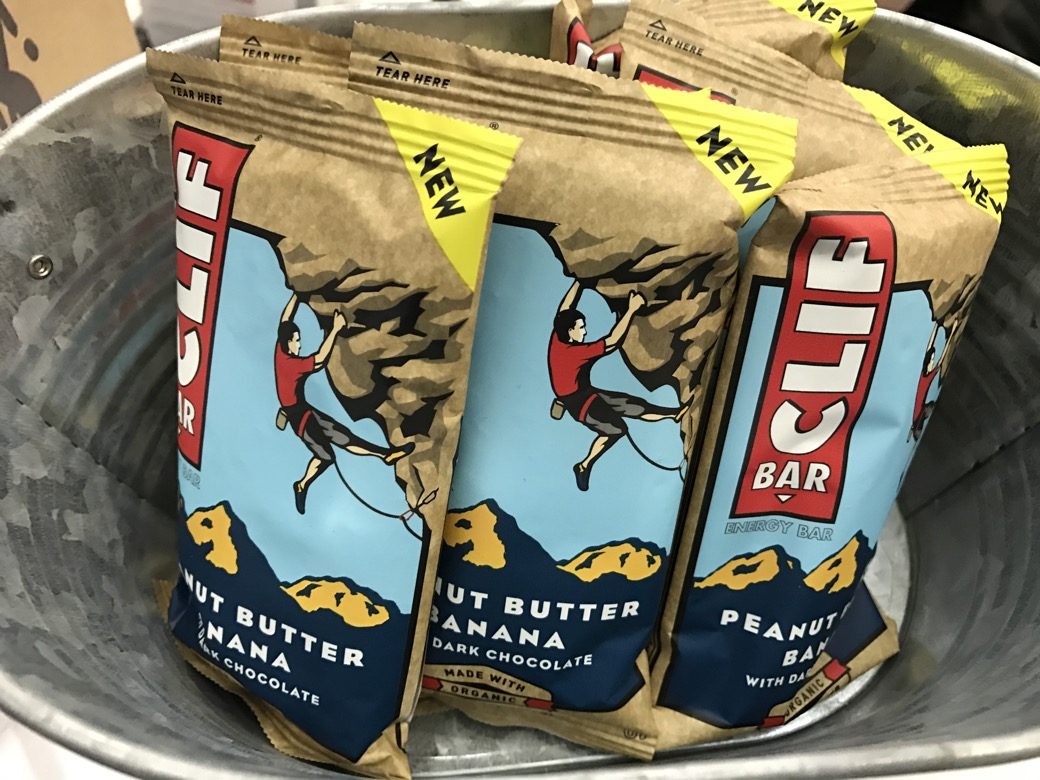 Mmmmmmm…organic.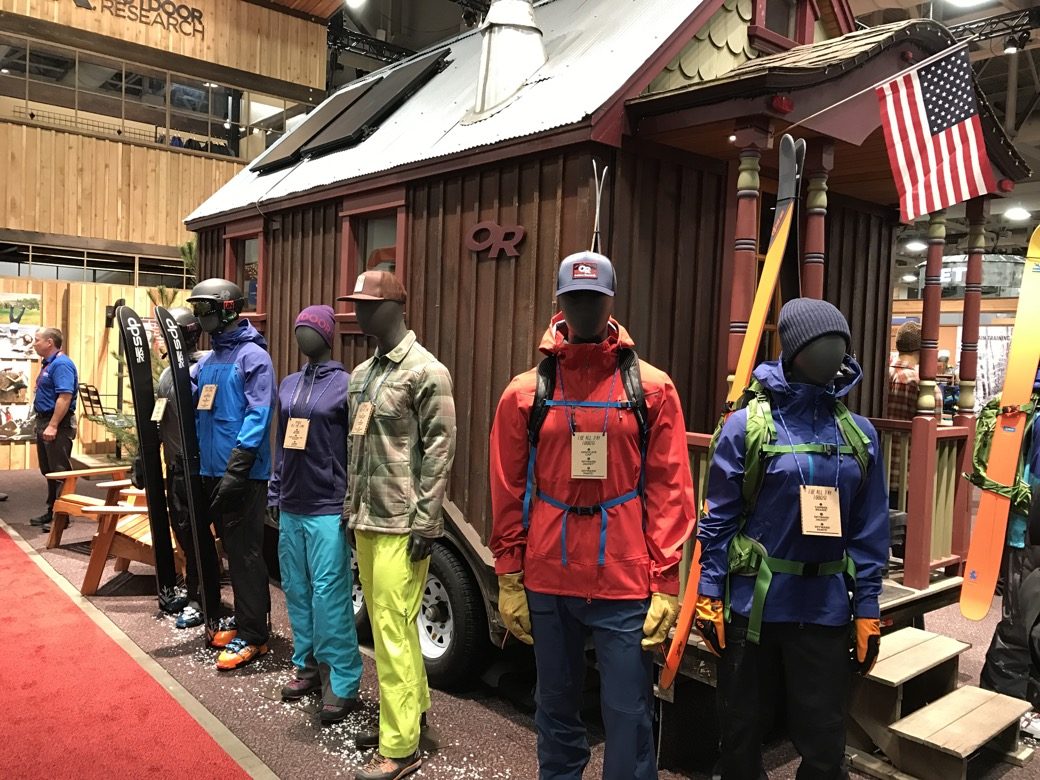 Maybe you remember Joe, whose team in Spokane Washington builds all our apparel. We were at OR to have some fabric meetings with mills – "Hey feel this, isn't it nice" type of meetings. And those meetings have their place, but most importantly for me was to check in face to face with Joe on where we are for 2017 (behind, but progressing rapidly) and beyond (moving aggressively with a solid growth plan). The good news is, he's been around the block, and his company has been doing this for 48 years. That's about 47 more years than we have, and his friendship and expertise are the reason why we're able to do something different in the space.
My take is this. The outdoor industry, coupled with the military market (featured more at SHOT Show in Vegas Baby, Vegas) has done some amazing things that add greatly to human comfort. Which is the goal, even though clothing will never make the man. Or any man, for that matter.
Some big developments in the last, I dunno, since forever: synthetic fabrics, waterproof materials, glueing fabrics together so that seams don't let moisture in, pastel colors and oh yeah, never forget the introduction of the environmental movement, pioneered by Patagonia, one of the two anchors of OR, the other being Arc'teryx. Both are great companies, and I love Patagonia's brand because they stand for something besides just product, and they walk the walk. Theirs is a warm brand I associate with ski lodges and hot chocolate in Vail, or something. Arc is a different story. Their gear is precise, and cold – like the Russian in Rocky – who you definitely want on your side in an alley fight. They've pushed the industry to become a lot more technical, and infinitely better, by creating value for great products. Good on them because it's raised the bar for all.
Of note, both brands are also involved in the military market at SHOT, though they brand themselves differently for those. It's a different division of their company, if you will. And after my first OR trip (I've been to SHOT), now I really understand why. The military culture/environment/way is simply out of place at OR. The culture at OR seems transplanted from a west coast ski lodge where one day you're on the slopes and the next you're ice climbing some special something that requires new gear from the other mountain you ice climbed last year. And definitely you can't wear the same jacket you wore skiing – no way, bro. You talk about the environmental impact of everything, sipping on something organic of course, even though there's a stack of free print magazines the size of an acre of Brazilian rainforest just sitting there, at your disposal and definitely destined for a landfill, somewhere not right here.
Contradictions are always easy to point out, and don't negate the good. The environmental movement has its heart in the right place and does a lot of good. I don't want dirty rivers or smog in our cities that would remind me of some of the places I've been in the world where the black lung seems a certain fate. And the most right wing hunters and fishermen I know don't want the game to disappear or the rivers to run with poisons in them. So the movement forces us to think about our choices, and that's a good thing.
Anyway, let's talk gear, sort of. In Special Forces, we had all the best shit, pardon my French. But it had to be versatile. Too specific and it couldn't adapt with you. Adaptation being a great way to avoid extinction, after all. The military stuff has a military look, usually too much so — you know, camo and Velcro and straps and too many pockets everywhere. But between high end military gear and high end outdoor gear, the technology and the fabrics and the construction are basically the same.
It's the brands and the aesthetics (how many logos and different colored stitch lines do you want everywhere all over you to look that out of place), that are different. In terms of quality, the brands being the ones to cut corners, or not, of course. And our goal at GORUCK is to build a bridge between the toughness and the functionality of military gear, cutting no corners, but making it more adoptable for city folks who want to transition to literally any environment. Or the converse. Hence GR1. Hence our initial apparel line. The outdoor industry has pushed everything forward, as has military demand, but at this point it seems we're not on the verge of anything new new like if the zipper went away and there were a better way for all of us to close a jacket. Because of course, the zipper is the weakest part of any piece of gear or apparel. The revolution would be to reduce the features, to simplify everything to its essence. Less is more, more is lazy is our philosophy.
That leads to Rule #1 in Special Forces: Always Look Cool.
So, this year from us you can expect a few new pieces, in classic colors (think black, grey, navy, coyote) in our growing line. And you can expect us not to expand too much from tried and tested fabrics, that we like and that we wear every day at work, to ruck, at the bar. Tough apparel that works and that doesn't come in lime green. Subtle if any exterior logo placement, and strong reminders internal to the piece, where it's made. Think: USA and that means red, white and blue. And when we show up in Salt Lake again, the place we're most comfortable is not the convention center, but all around town in the wee early hours when we're still on East Coast time. Further testing the next round of stuff that'll be out next season. Salt Lake and the surrounding areas are beautiful, and worth the trek. And all the days end up at the bar with everyone else, good people we like. And somehow, at OR, that's kinda how it works.
Which is pretty cool.
Check out our Made in USA apparel line here.