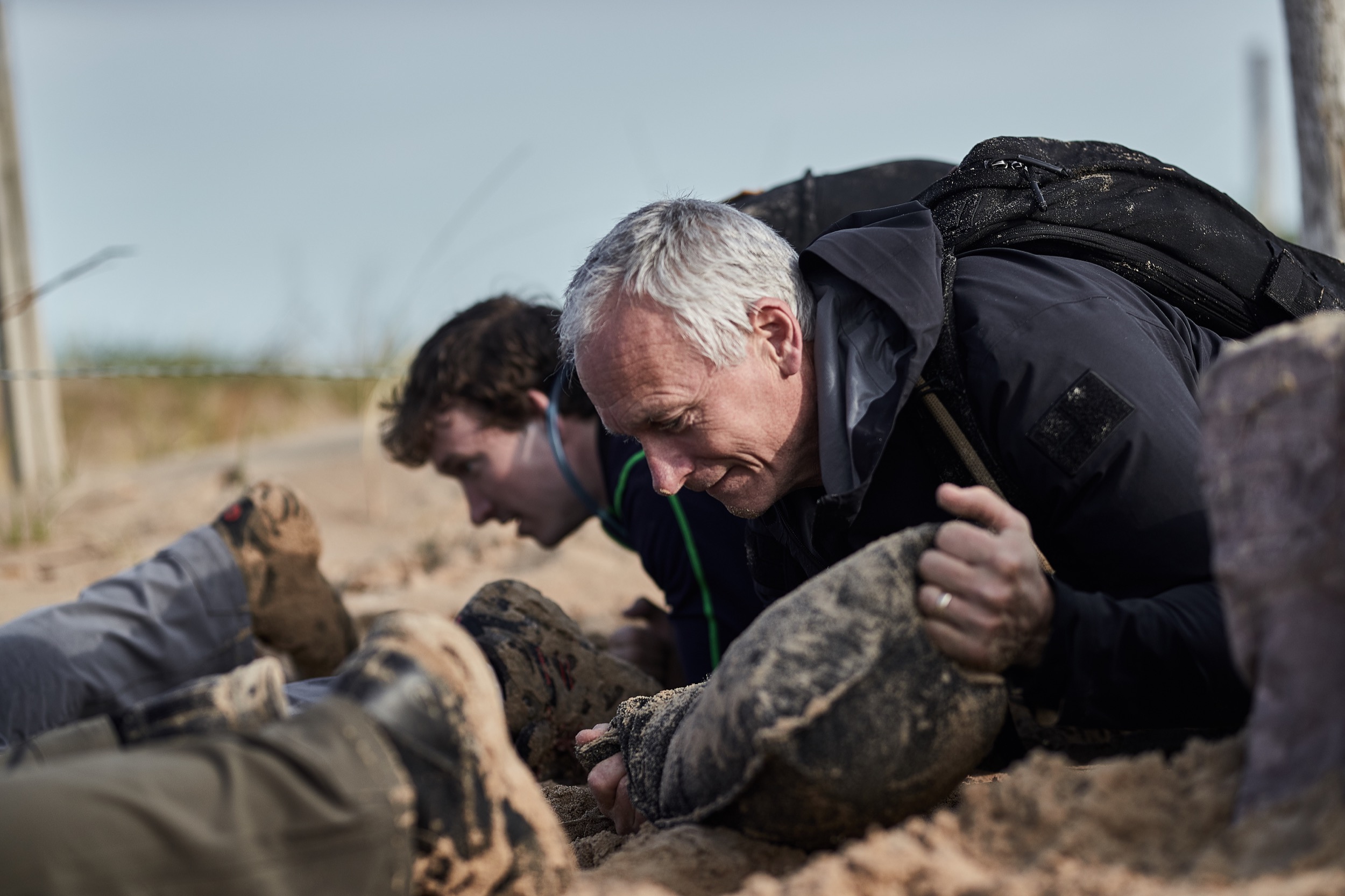 I will say that working with GORUCK allows me to follow certain principles that are important to me. One of those is Rule # 1 (Always Look Cool). I like to get out and test our products, and of course need to stay true to my principles and look great.
I also care greatly about quality, as I was raised by a father that built a company on that principle. So the other reason for wearing and testing garments is that I want to try and figure out where the failure points will be and what we need to do to correct that. Glued garments are an extra challenge and we had to make sure it would hold up to the expectations of the discerning customers at GORUCK. There are a lot of extra steps that go into these types of garments, steps you can't skip if you want excellence. So we do it right—it takes a little longer, costs a little more, but in the end hopefully the customer appreciates this piece as much as I do.   
When we were working on refining the fit of the jacket, we wanted it to have an athletic fit, yet a refined finish. So we didn't use elastic or Velcro tabs—the goal was minimalist since the primary function was a great outerwear jacket designed for those days where Rule #1 applied more than anything.  
But of course this garment is more than great looks and has to perform in all environments, and the sleeves are always the toughest area to refine in a non-stretch woven fabric. So we dug deep into our experience working in the cycling industry, and worked on articulating the shape of the sleeves with a couple extra panels to make it move properly when you are lifting your 40 lb ruck over your head while lunging. You don't want your jacket and hood covering your face in the middle of your picture perfect lunges in the rain. And nobody has straight arms anyway so we thoughtfully contoured them. That's why we took the extra time to sculpt the sleeves and body to move better while exercising.
At the end of the day, all of us here at K-L care greatly for GORUCK and want to see them grow their vision of rucking across the world. And you have to do that in style, which is where we help.
Joe Doohan
President, K-L Manufacturing
---
Read first hand reviews from our GORUCK Cadre who tested it in action during GORUCK Challenges:
The American Waterproof Jacket matches the style, quality, durability, and performance standards that we expect and demand from our equipment. It's held up great against brutal storms and kept me warm on cold nights as a blocker to wind, snow, and drenching rain. 

It is ALWAYS in my ruck and looks and performs great when the job and environment calls for it.

– Cadre DS
---
It works great, keeps me dry in a monsoon but doesn't feel like other premium rain jackets with that horrible plastic bag feel on the inside. This one is way better, great piece of gear.

– Cadre Dan
---
Absolutely love the jacket! It keeps you dry in down pouring rain without making you feel like you are hiding from the rain like a tortoise in a shell of canvas. This is the first jacket that I've been able to leave on during a patching-in ceremony without violating Rule #1.

– Cadre Heath
---
Long story short – I was watching my son Carson's 7-on-7 football game last night and got caught in a rainstorm that just dumped for 2.5 hours of a 3 hour game. I was totally dry minus shoes. No leaks at any seams, I had the zipper down to just at the sternum level to let air in. I was drier than parents who had those fancy umbrellas!!! 

– Cadre Mocha Mike
---
The American Waterproof Jacket keeps me and my Ranger Buddy dry on the beaches of Normandy… everyone else, not so much! Great piece of kit. 

– Cadre Ragnar