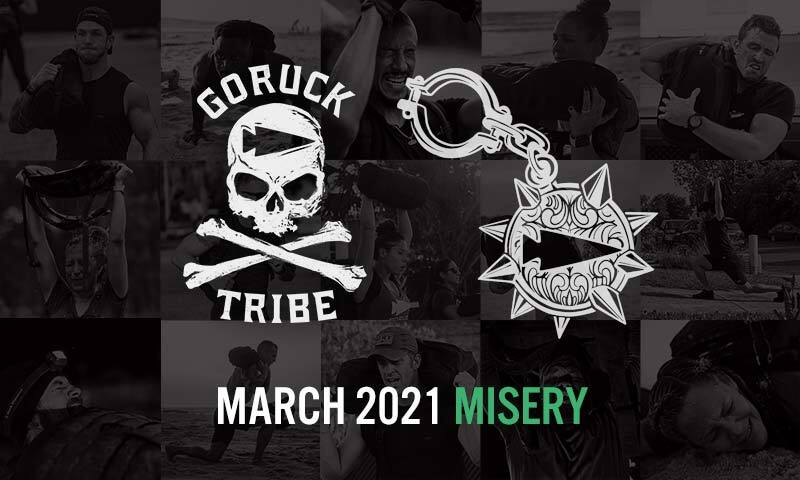 Here is the run-down on all details for March 2021 including the patch design, workout, rucking requirement, book of the month, and additional tasking.
MARCH 2021 EXCLUSIVE PATCH "MISERY"
GORUCK was born of misery. In a short period of time, I lost all the major support structures in my life (job, mission, wife). Each loss was painful, together they bred misery. And there was nothing easy about fighting through to the other side of it.
What ultimately got me back on the path was to serve something greater than myself. The intent for the GORUCK Challenge was to build Fight Clubs all over the country where people would come together to do mud runs and other activities together, in the real world. I led the class and became one of us at the same time, and that has made all the difference. The sharing of real time together doing hard things is becoming a lost art, and devalued in our modern lives. But this struggle is not new to smart phones or social media driven culture — Fight Club was written in 1996 about struggles very relevant today. The bottom line is that no matter how much money or privacy you have — no matter how empowered you think you are by the apps in your phone and the perfect clothes in your closet, none of that shit matters, in the end.
FALL OF BAGHDAD
(Generation KILL)
The destruction of the Saddam Hussein statue in Firdos Square was an event in the invasion of Iraq in 2003 that marked the symbolic success of the Battle of Baghdad. The event occurred on April 9, 2003.
FALL OF BAGHDAD
2000m Ruck
34 rounds:
1 sb CLUSTER (sq clean + thruster)
3 Ruck Push Ups
5 mountain climbers
2000m Ruck
​
Significance
34 Rounds = 34 Killed in Action
1 Sandbag Cluster = 1 represents the USMC 1st Marine Division
3 Ruck Push Ups = 3 represents the US Army 3rd Infantry Division
5 Mountain Climbers = 5 represents the Coalition of Joint Forces and Aircraft involved in the battle
2k = 2K infil and exfil represents the year and estimated Iraq KIA
Watch the Fall of Baghdad (Generation Kill) WOD How-To Video from Cadre DS.
3 x 2 Miler throughout the month. (Baseline + 20%), 1x 8 Miler (Baseline)
Remember: your baseline weight is basically what you ruck with most consistently; it usually ranges between 20-45lbs depending on your experience under a ruck. Before we push the distance, let's work on scaling up the weight a notch. For example, if your baseline weight is 20lbs then your baseline weight + 20% will be 24lbs aka throw in a little something extra to add to your normal baseline weight. This is a guideline, not a mandate — don't overthink the exact % of the additional weight.
The 4 x 5 milers last month have prepared you for a little more distance. Returning to your baseline weight, you are ready to flex up to an 8 Miler and aim to keep your best 5 Miler pace.
Rule of thumb: If you are going shorter distances, go heavier. If going longer, scale the weight back.
Do one miserable thing (with someone else) that you haven't done in at least a year. You should be scared, at least a little bit, to do it.
Fight Club by Chuck Palahniuk
The first rule about fight club is you don't talk about fight club.
In his debut novel, Chuck Palahniuk showed himself to be his generation's most visionary satirist. Fight Club's estranged narrator leaves his lackluster job when he comes under the thrall of Tyler Durden, an enigmatic young man who holds secret boxing matches in the basement of bars. There two men fight "as long as they have to." A gloriously original work that exposes what is at the core of our modern world.
"Misery Loves Company."
Love Monster
President, GORUCK Nation