We love it when GORUCK Clubs come up with great ideas and get a bunch of folks together to sweat and have a fun time in person. This is the idea behind GORUCK America: for us to send someone from GORUCK HQ to join different clubs around the country and have fun together under the ruck. For this event, Ruck Club Community Manager Doug Stryker traveled to Sterling, VA to team up with members from LoCo Ruckers, DMV GRT, FXBG, and Mason Dixon Ruck Club to wear kilts, ruck some miles, and drink some beer. What follows is the AAR from LoCo Ruckers co-founder Greg Williams.
"Here's to the health of your enemies' enemies!" -Irish Proverb
For the past 2 years the enemy has been COVID-19, and its enemy has been the human spirit. With that in mind, for the second year in a row, a few of us have gotten together to say COVID Can Kiss Our Kilts! In the name of St Patrick's Day, Irish-American History, and the Indomitability of Human Spirit, we've gotten together to celebrate. We strap on kilts, down many ales, ruck some miles, and try not to laugh those kilts off in the process. It is truly some Good Living.
My name is Greg Williams, and I'm the Ruck Club Leader for Loudoun County Ruckers (LoCo Ruckers). COVID Can Kiss Our Kilts is the current name of our annual Irish Brewery Ruck. It's been an annual tradition for four years now, taking on the additional COVID theme starting in 2021. It's a very special event for us, as it's become a benchmark for the club, and a reflection point for the pandemic.
A Year-Old Club Faces Quarantine:
The club was founded in early 2019, with the first St Patrick's Day Brewery Ruck as one of our first big social events. A year later in 2020 it was set to be almost like a club birthday. Except there was something else on everyone's mind that second year.
In March of 2020, it was like the air was thick with the nervous anticipation of what was about to happen. It was clearly memorable as we all laughed and enjoyed ourselves, with an ever-present sense of hesitation as we questioned how crazy things were about to get. Within a month it would be a world of hoarding toilet paper, lockdowns, and cancelling everything.
Our barely year-old club went from full steam ahead to full-stop paused in an instant. We did what we could to stay communal, and after a bit did start to have limited in person events again. All of us know this story, we all lived it, albeit a bit differently from region to region. Personally, I was among those laid off during the economic recession. It wasn't just my personal friends who helped me through that, I must be thankful to this community for helping me keep my sanity during those jobless months.
We all suffered through the pandemic to some extent or another. Getting through that first year was rough. So in March of 2021, with things improving some and hopes on the rise, there was a thirst for fun. Despite everything the club, GORUCK, and the community at large was still rolling. Thus came the idea to alter our little St Patrick's Day Brewery Ruck into something bigger. To quench that thirst both figuratively and literally. In 2021, and now again in 2022, we decided to party like St Patrick was chasing the germs out of America. We invited Ruckers from all over the region to make this a multi-club regional chance to be social and tell COVID it could kiss our kilts. To come out and have fun, and feel excited again.
In 2021 it worked. Sure, Omicron raised its angry head a few months later, but this was at least a piece of fun many of us were able to get in during that lull. Now we've repeated it again in 2022, and whether COVID is dying or will return, events like this help us charge into it with momentum. Fun events breed excitement for even bigger events.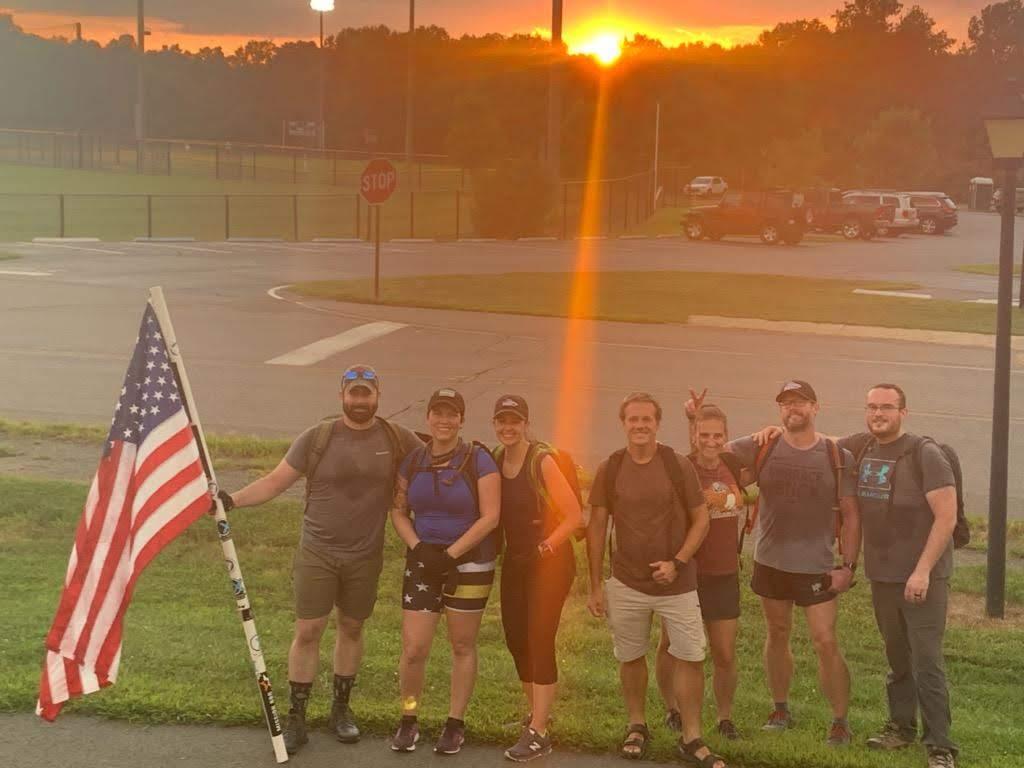 The Club:
LoCo Ruckers was founded between me and another great GRT named Matt Greiner. Matt is a US Coast Guard / Navy Veteran, Pancreatitis Survivor, Wise Leader, and steady source of Inspiration. He moved away after a year with the club to the Rocky Mountains where he's now a mountain trotting outdoorsman, even more of an athlete, and spokesperson for Mission 22. I'm fortunate to have him as a friend, and learned much from him.
We both pushed each other to start the club. It was both on our minds, we just needed that push to start. Where we're situated in Loudoun County is the western edge of the DC Metro Area's urban/suburban sprawl. It's a unique area with the highly built-up communities of the eastern county, mountainous Blue Ridge to the west, and farmland in between. A county mixed with the world's largest collection of data centers, the Appalachian Trail, and an astounding number of wineries/breweries. It's also near one of the oldest and best regarded ruck clubs out there, DMV GRT. We all started out with DMV, and maintain very close ties. But with the way DC area traffic can be, it was simply impossible to reach the DMV's turf for regular events. This established a need for an additional club: regular accessibility.
Up until this point I had ran some large special events centered around community service. We contacted some local groups we refer to as the Trail Associations, and asked if they ever needed help. That we were a bunch of oddballs who liked to voluntarily carry heavy things and get dirty. The response from Associations like the Potomac Heritage Trail and local community groups was strong. This led to arguably my first Ruck Club Leadership experience where we moved ~2,000 pounds of cement and equipment down a hiking trail and built concrete steps across a creek. The goal we had was to find ways our hobby could be directly utilized, and this certainly hit the mark. I highly recommend ruckers to reach out to park and trail groups to offer help like this. It's a way skills and capabilities built up through GORUCK style training can directly translate to charitable action.
So right from the start the club had two cornerstones: having fun and doing community service. This isn't to neglect the third cornerstone: physical fitness / doing challenging things. The first club event was the first time Matt and I met, which was to do a nighttime marathon ruck. From there we've had regular weekly workouts, mountain rucks, weekend challenges, and collective club participations at GORUCK Challenges.
We've gotten pretty innovative at times. Sometimes leading a club feels like being a recreational Blue Falcon. That is, deciding that just rucking is too easy so let's build something painful to carry as we go. The important thing is to put your people first, including giving them the right amount of push. And remembering both what you are and are not. For example, I'm not the greatest athlete out there, nor the most accomplished GRT. And though we lead rucking events, we are absolutely not Cadre. One of the best pieces of advice about club leadership I heard was along the lines of: If a Cadre's event goes hours over schedule, that's considered great. If a club event goes hours over schedule, that's considered poor planning. The lesson there is Cadre get a level of respect because of who they are and what they've done. An RCL is only as good as their planning. So, the most important part of planning rucking events is caring. That is caring about your people and putting them first. Caring to put the work in on planning. And caring to not take anything out on them in disappointment. It's either their success or your failure.
COVID CAN KISS OUR KILTS! Irish Brewery Ruck:
This event was about an 8-mile ruck that stopped at six breweries and a single craft beer bar. Everyone was encouraged to wear kilts, or at least Irish / St Patrick's Day themed attire. Yes, kilts are Irish. They might have started in Scotland, but it didn't take long for the Irish to adopt them.
At its heart this was little more than an 8-mile social ruck. Not everything needs to be complex, what's special about these events is the fun time spent with great people. In this way, our Annual Irish Brewery Ruck has been extra special attracting amazing people from all over. Still, even a simple plan can be polished up.
For one, we were able to hit up 7 spots by making the ruck an A to B path instead of a loop. This required carpooling. Further, it's often the case that participants strength, patience, and willpower declines throughout an event. Therefore it's advantageous to accomplish taxing or complex tasks early. To that end, our starting mission was to transport everyone from the Meeting Point / Endex Area to the Starting Point, and then reduce the number of vehicles left there to a minimum. We accomplished this by splitting into two teams: the Main Party and Driving Party. The Main Party was dropped off with clear directions to reach the first stop, while the Driving Party returned make a second trip in less cars. In this way we were able to get everyone to the Start Point and leave only a single car there to retrieve later on.
With what little real work there was to do completed, that left the rest of the day for us just to ruck, drink, and be social! We were all basically just walking back to our cars, albeit by a very scenic and brewery filled route. And the end of it all we only needed to retrieve the single car.
The more people involved, the harder it is to be flexible. This makes route planning key. The biggest danger here was major road crossings. So, we tried something new: Road Guard Flags. We had a pair of smaller flag poles with smaller American Flags (12×18 inch), and whoever had these were expected to guard every big crossing. This worked great, as there was no second guessing as to who was on duty, and the flags add increased visibility to cars. We were sure this duty was regularly rotated.
Besides the ruck itself we had a Best Dressed competition and some Irish-American History. The history largely centered on the Irish in the Civil War, specifically the Fighting 69th Irish Brigade. Because what is more significant in Irish-American history than Irish-Americans who fought and perished for America?
We also had a social game with Irish-Green Beads. At the start everyone was given three pair. The rule was people were to find someone they'd never met, ask them at least 3 questions about themselves, and then decorate their rucks with a pair of beads. Because by far one of the best parts of these large multi-club events is the opportunity to meet new people. This icebreaking tactic also assured anyone new would likely be kindly approached and have a convenient way to approach others.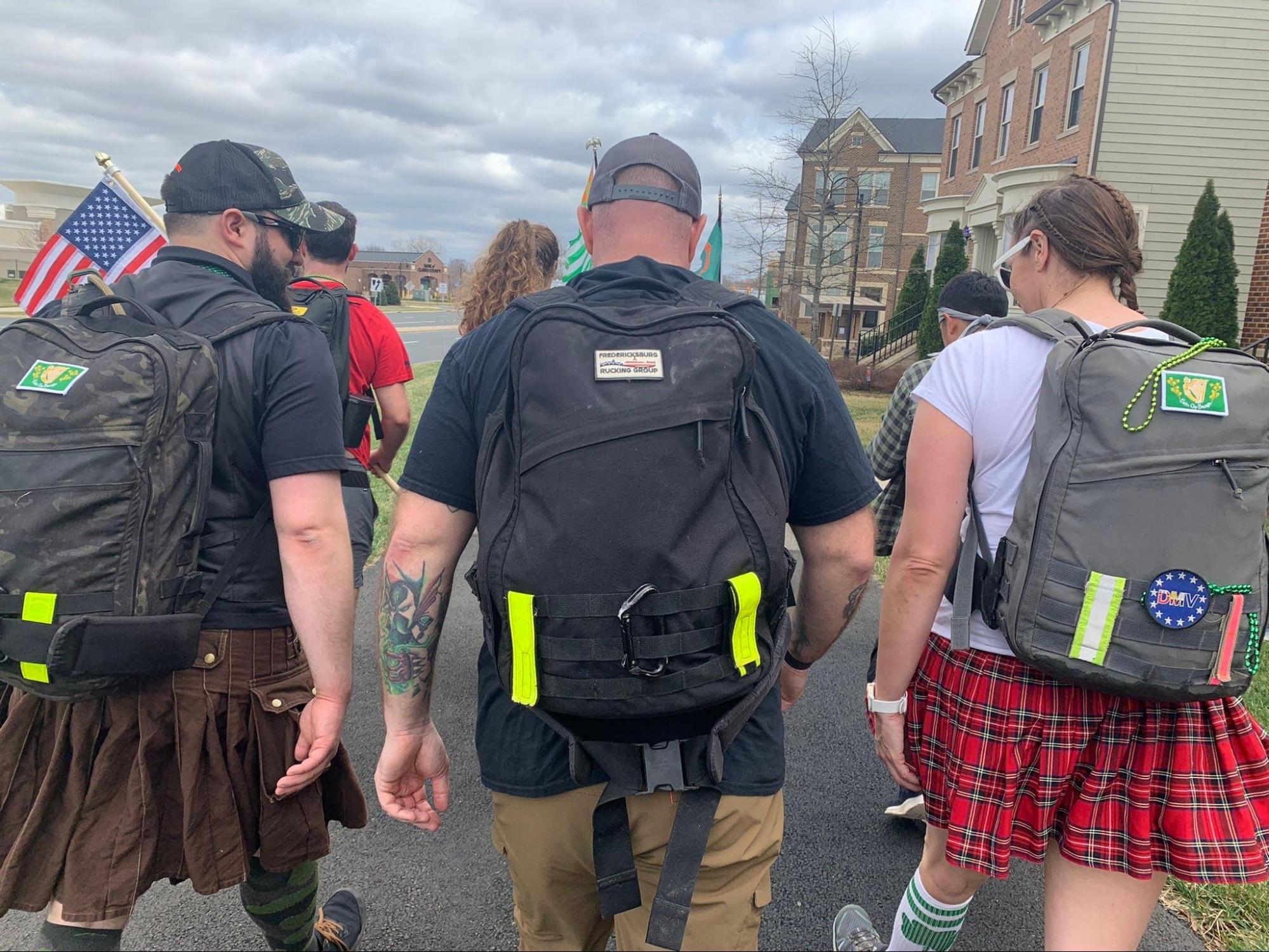 And this was most definitely a multi-club event. We had participants from all over the region come in. This included DMV GRT, FXBG, Mason Dixon Ruck Club, and more. It's this collection built of awesome people around the Mid-Atlantic which makes this among the best places in the world for rucking events. We may be different clubs, but we're all on the same team.
This is largely why we were so excited to be included in GORUCK America. Not just to share what my club and I have accomplished and do, but to also show how we're part of a strong ecosystem of regional clubs. We aren't the first, nor the last, but we're unique and add our unique strengths to a community of strong clubs.
A Bright Future:
The overall theme for COVID Can Kiss Our Kilts 2022 was excitement that COVID finally seems to be dying away. Maybe there will be another spike, but the trend seems to be that the worst is over. LoCo Ruckers and the greater Rucking Community was slowed down and struggled through this pandemic. But it only slowed us, we never stopped. Now everything should build energy and excitement. We have 2 years worth of just doing what we could to make up for. After we all experienced being so hampered by the virus, we can storm into freer days hungry for adventure. It is my sincere hope that everyone shares my hope and determination to not return to business as normal, but blow it away.
Thank you LoCo Ruckers for having us!