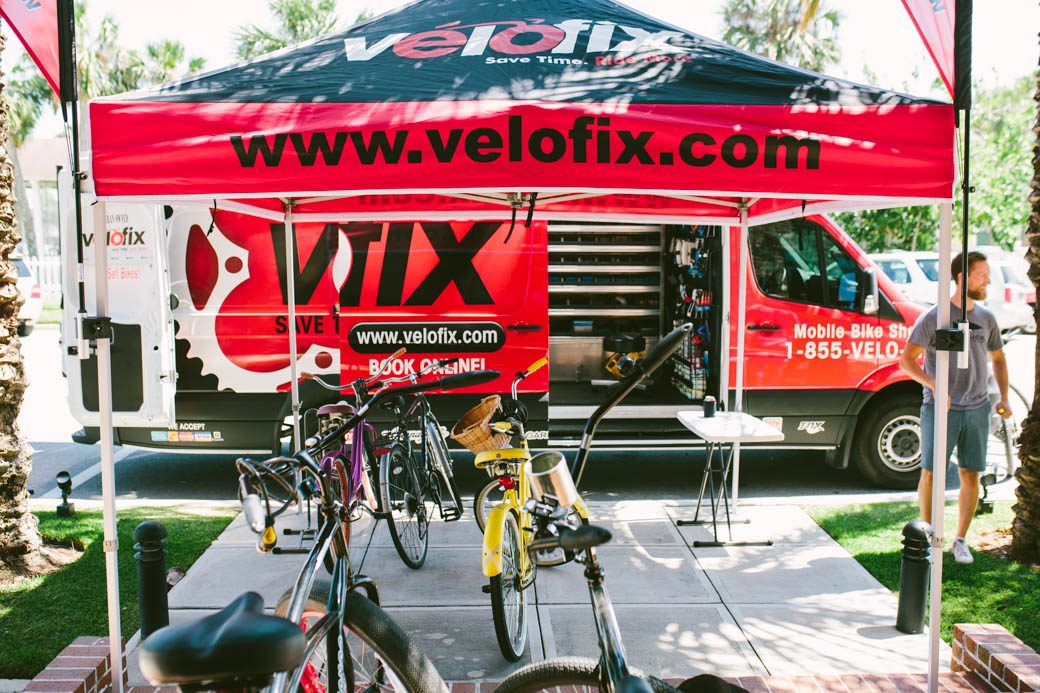 Almost everyone at GRHQ commutes to work. Our bikes see a lot of miles, sand, rain, and sometimes a little salt water. They needed some TLC. Thankfully Ryan Peterson, his wife Erin, and their Bike Mechanic Matt brought the Velofix Mobile Bike Shop to GRHQ to tune everyones bikes.
---
What does Velofix Mobile Bike Shop do?
We are a full service bike shop that does sales, service, parts, and accessories for any type bike. From beach cruisers and hand cruisers, to high end triathlon bikes. We will bring that service to your home, business, or event. We can do it all, minor tune up, fix a flat tire, adjust your brakes, derailers, tearing a bike completely down, giving you all new components, building you a custom event, there is nothing we can't do. This van is a full shop with every part and tool imaginable. 
Is this a nationwide service?
Yes, we just reached 100 vans with the franchise. Around 84 cities with some operating several vans at one time. 
How are you a friend of GORUCK?
I met you through a combined Team RWB/GORUCK event here at GRHQ. I have been a long time member of Team RWB and that is how I learned about GORUCK. I love that they are teamed up. 
You are a veteran?
In 1993 I joined the Army, spent 8 years in a mix of active and reserve duty. I got out and went into the corporate world. 9/11 happened, I had a tug on my heart strings and had to get back in the game. I re-enlisted in the USAF Reserves. I am still serving today with the Air National Guard. I will continue till I retire. 
Tell me about your crew here today.
My wife Erin does all the social media, advertising, accounting, you name it. I get stuck with taxes and all the crap that no one wants to do. Our Mechanic Matt gets to do all the fun stuff, he is our front end to all the customers, the brains behind making every bike that is broken work again and making sure the customers are happy. He is the front line to the community. 
Anything you would like to say to the GORUCK community?
GORUCK and Team RWB are a big family. I can't wait to see that grow. They both fill a void for those of us that got out of the military. We all understand each other, it is a brotherhood. Get involved and do something, do not just stand on the sidelines and bitch about it. You never know who you are going to meet at the next event. 
---
We would like to thank the Jacksonville Beach Velofix team for stopping by, spending the afternoon with us and bringing their really cool electric bike for us to try. If your bike needs some love. Give them a call and let them know GORUCK sent you.
Christopher Goad
AKA Bomber