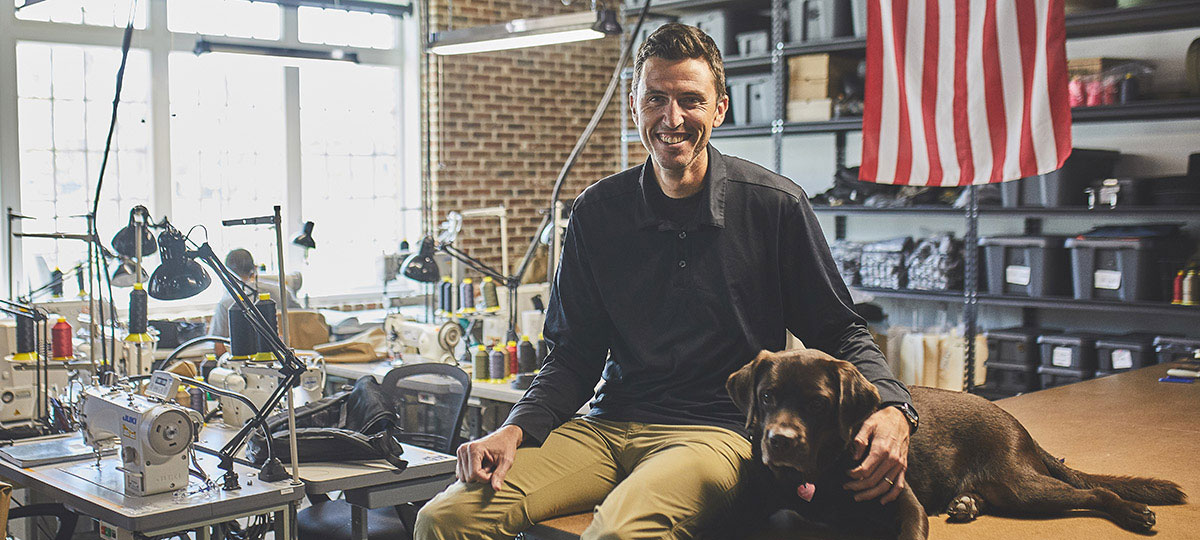 UPDATE (September 1, 2018):
We've gotten lots of feedback these last couple weeks since we announced our first ever price increase, and I wanted to first thank you all for your notes — I've read thousands of them, including your cost analyses, market comparisons, new business plans, proposals for building a bigger team of sewers here in America and proposals for offshoring everything, for taking on more SKU's and fewer SKU's, for doing less, for doing more. Some of your notes took me fifteen minutes to read and another twenty to re-read, they were that detailed. A few notes of support rolled in, too. I'm grateful so many of you took the time to share your opinions, good bad and ugly.
The most important question to answer, I believe, is what does GORUCK stand for and how do we reconcile that with the really high prices we charge for our gear. How can we be an accessible, populist movement fueled at our core by working class Americans if we charge $395 for GR1? Are we pricing out too many good people? Are we becoming some sort of luxury brand?
It's pretty simple, though, really. We're an American brand dedicated to the Special Forces way of life, excellence and all. Prices on our manufactured goods are going up because costs have been going up for a long time — and I don't mean dumb costs like champagne and caviar and private jet fuel, that's not our style. I'm talking manufacturing costs and providing premium service, to you, with goods that meet our Special Forces life or death quality standards and are built to last you a lifetime of memories.
Free Shipping, Free Returns, Scars Lifetime Guarantee — there's a lot of (new) value there, including an expansions of Scars to include rucksacks, apparel, and footwear.
Our HQ team in Jax Beach, Florida is lean and yet more mature than ever, and our operations are efficient. It's no small feat to scale quality, hand built gear and execute 1,000 Events led by Special Forces guys all over the world, every year. It's taken us, our entire team, the last decade to get to where we are, right now, with an active and engaged community, and we're exactly where we're supposed to be.
But we simply can't run today's GORUCK, and especially not tomorrow's, on yesterday's prices. If we kept on trying, quality would have to decrease and service would have to go down, and those are compromises I'm not willing to make, and they're not compromises you want us to make. I'd rather we hold the line on building the absolute very best and maintaining higher and higher ground.
At a personal level, I'm not interested in selling GORUCK the company and I have no intentions of retiring, ever (Emily is really glad about that one). I love the work here because I love the community and because I love our team. Harkening back to the first counseling statement I got as a Green Beret, Those to whom much is given, much is expected, and I believe I have a lot more to give, I believe we have a lot more to give at GORUCK, by with and through our community, and I believe we're fighting the good fight together for the values we hold dear.
No part in there said we're a brand about OK gear at OK prices, that's just not us. So yes, prices are going up. We're delaying the increase through the weekend (~Tuesday morning realistically) so you have a little more time and so that our team can enjoy Labor Day weekend instead of real time answering your notes and emails about how you missed the sale by an hour or a day, can you have the old price (the answer was yes, by the way, and thanks for the support).
In sum, we build great stuff. But it's still just stuff. If you buy less and do more with people you love, if you take a chance and try something new every once in a while, if you find something bigger than yourself and serve that cause, that sounds to me like a great way to lead a meaningful life. And that matters so much more than what's in our closet, or our trunk, or even on our backs.
John Wayne once said, A man's gotta do what a man's gotta do. This is one of those instances, nothing more, nothing less. Standards across the board are and can and will continue to go up, and please hold us to that. We wouldn't have it any other way.
Thanks for the support,
Jason McCarthy
Founder, GORUCK
---
ORIGINAL POST (August 14, 2018):
In 2008, when we first started the journey of creating GR1, my only focus was to build a rucksack that would thrive in Baghdad and NYC, that would live up to Special Forces standards so that I didn't get blacklisted from the community I loved. I had no idea what it would cost to build and I had no idea what we would charge. My non-existent business plan and zero experience in manufacturing made that easy.
One thing was clear to me, though: "Founded by a Green Beret, made in China" never felt right, and quality was always a life or death proposition for us, so we decided to take the long and lonely road of building our rucksacks here, at home in the USA.
Two and a half years later, GR1 was ready, and I saw the price from the manufacturer and thought that was our death sentence. It cost us what I was hoping to charge you. Which clearly wasn't gonna work.
Eventually, and very reluctantly, in 2010 we settled on GR1's debut retail price of $295. It felt like a ton of cash, a price I never would have paid, and silence was the world's answer at launch because we were unproven and our prices were 5-10X as much as people expected to pay for a "backpack". But we were officially up and running. I had every sale set to trigger an email to my phone, which wasn't a problem because nobody was buying. One guy told me "the only reason I clicked on GR1 was because I was so fascinated by how something so simple looking could cost so damn much."
Over the years, we've been fortunate. To keep manufacturing at home in America, to meet so many of you at our thousands of events, to expose millions to rucking, to hear the stories of what you've done with your gear. The best part of GORUCK is and will always be the people, and you've built us up from nothing to what we are today. I'm very proud that GORUCK feels elite without being elitist.
Meanwhile, in the background of what feels like a huge success story to me, about some Special Forces guy and his wife who took their deployment money from service overseas to build one ruck and eventually built a real movement of people committed to something more, to the Special Forces way of life, the economy moves forward, labor prices go up — in some cases 33%, material prices go up, shipping prices go up, inflation happens — it never ends. These are not the joys of a small business. And yet, Lead With Transparency remains a value we live by at GORUCK.
So instead of surprising our community, and that means you, about a price increase on all pieces of GORUCK gear and apparel, we wanted to give you fair warning. So here it is: September 1 at midnight, prices across the board on GORUCK built Rucksacks and Apparel are going up, on average 20-30%. This will be GR1's first ever price increase.
However, we're also finalizing new shipping costs and improving the level of service you can expect on all GORUCK orders. Nobody likes to pay for shipping or returns, we've heard you loud and clear (and measured abandoned cart rates), and you want to track your order seamlessly from start to finish, no matter what. These are reasonable expectations this day and age. Our Earned Service Discount will continue at 25% off of marked prices, and it will continue to be available to Military, Law Enforcement, Fire, First Responders, Govt. Employees, Students and Teachers. Who knows, if you make friends with someone serving (and buy them a case of beer), they might even let you use their discount. You can do that now, before prices go up, or at any time in the future. That'll be up to you all.
We've always prided ourselves in doing things a little different, and this is no exception. And here's the bright side — for those of you who already own our gear … its value is only increasing, and our Scars Lifetime Guarantee remains in place, now till forever. No proof of purchase necessary, we can recognize our own gear, and we're proud you can, too.
Thanks for the support,
Jason McCarthy
Founder, GORUCK