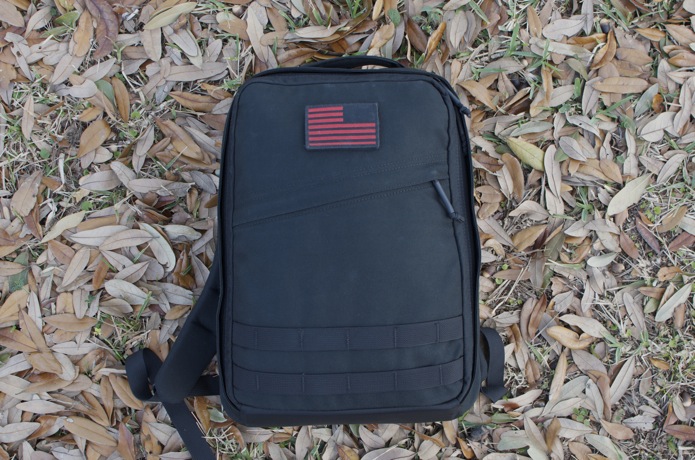 An 'Echo' of our other rucks, this smaller version is every bit as tough and every bit as functional. But its size gives it a different story to tell. Sort of.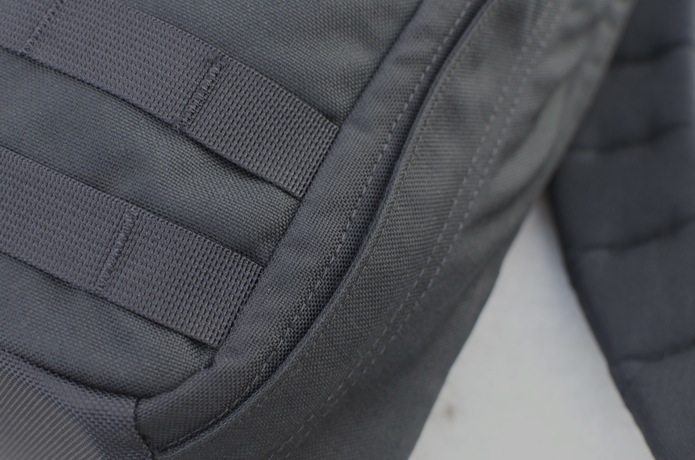 All our rucks have consistent features. The Echo has two rows of MOLLE webbing (the same system used by our Armed Forces to attach accessory pockets, carabiners, etc.) across the front. You'll notice that the webbing is sewn directly into the seam between the front panel and the side panel (which contains the main compartment's zipper). This technique allows us to sew the end of the webbing down on the inside of the ruck where the two panels come together.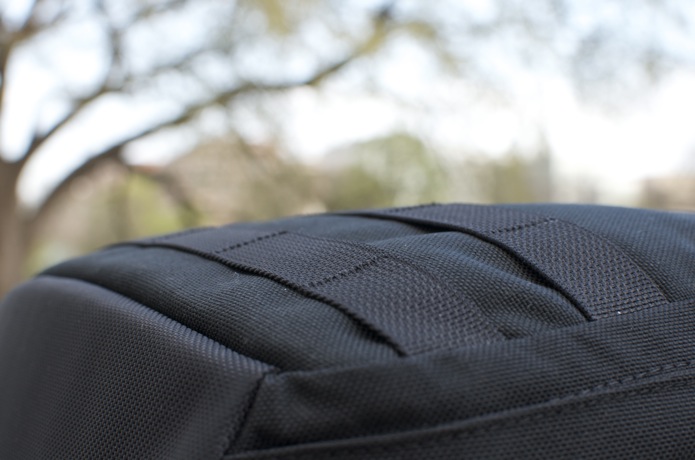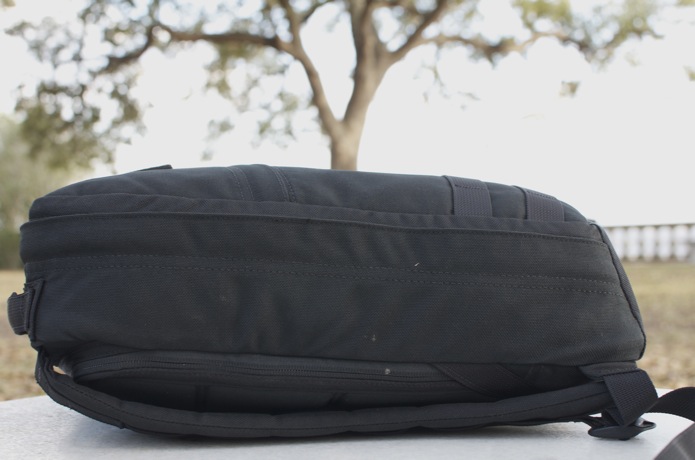 This technique would not be possible on the sides of the Echo. Pictured above, notice the two rows of stitching running horizontal and parallel through the middle of the side panel. The strip of 1000D Cordura above them is called a rain guard; behind the rain guard lies the zipper. We laugh about the term 'rain guard' a little bit at our factory because neither the zipper nor the ruck itself needs guarding from the rain, but since the industry calls it this, we opted not to call it a knife guard or something like that. The point of all this talk of seams and the rain guard is to say that there is no closed seam where we could sew webbing into — and even if there were (if the rain guard didn't exist), limited real estate on the side panel would limit functionality. The Radio Ruck has externally bartacked webbing, meaning it is not sewn into a seam, but the Echo lacks the Radio Ruck's real estate on the side panel, so the Echo doesn't have any MOLLE webbing.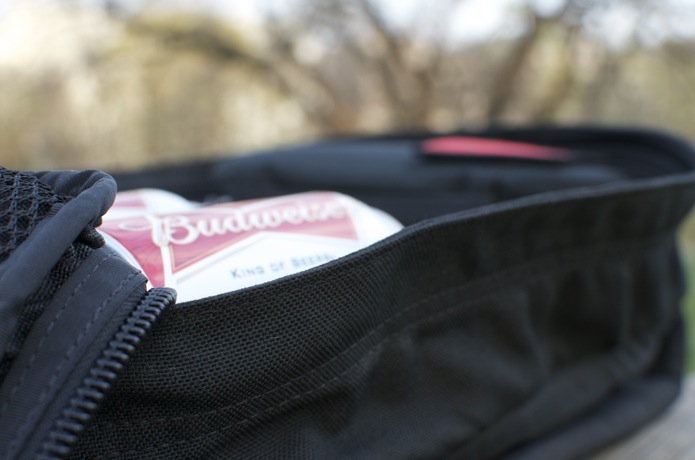 More detail of the rain guard (and a preview of a mostly empty ruck with the essentials I pack first). The zipper head (with the pull attached) is hidden behind it, along with half of the unzipped zipper chain. When zipped up, the full zipper chain is protected by the rain guard.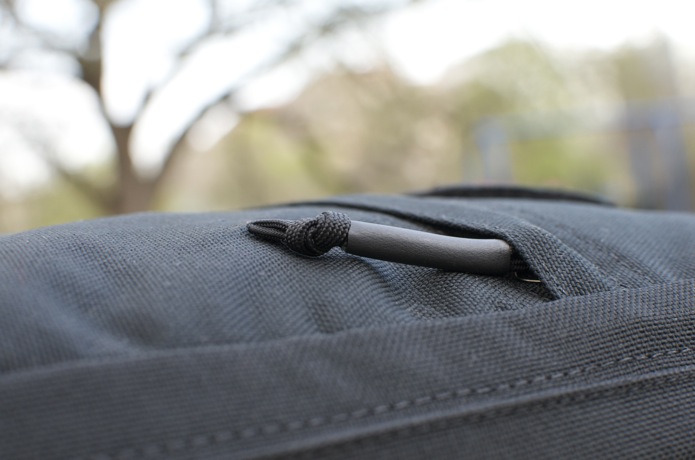 Pictured above is the front slant pocket zipper pull. The zipper head and chain are tucked behind a rain guard. Similar to the rain guard along the side panel, this strip of 1000D Cordura guards the zippers (always the weakest part of any ruck) from abrasion, dirt, mud etc. Our silent zipper pulls need less protection, though. They're constructed from parachute 500 cord encased in a rubber tubing that allows for an easy grab even with reduced dexterity or when wearing gloves. And they don't make any kind of annoying noise when you're walking, or running, around.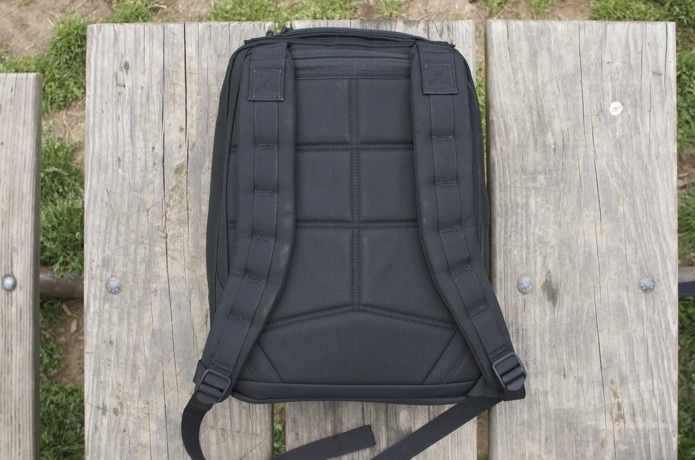 The Echo's back panel and shoulder straps are identical in design to our other rucks, only smaller. The shoulder straps took us a few rounds of prototypes to size correctly. The Echo has less volume capacity than Radio Ruck so its shoulder straps are smaller because you need less padding to carry less weight. How much smaller was the question, though, and the only way to test it out is trial and error. So that's what we did before they were ready to go.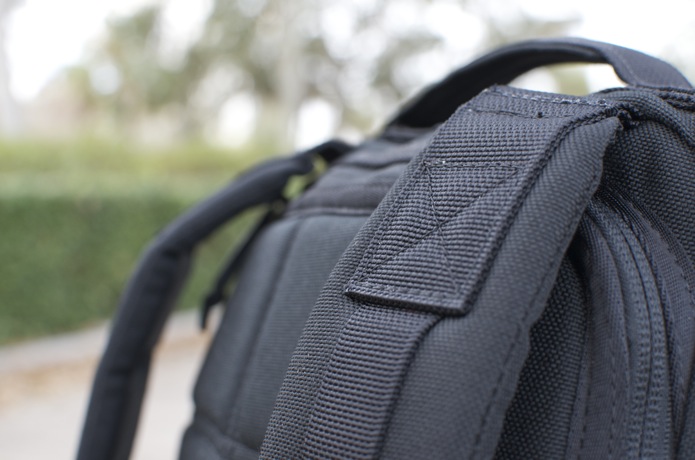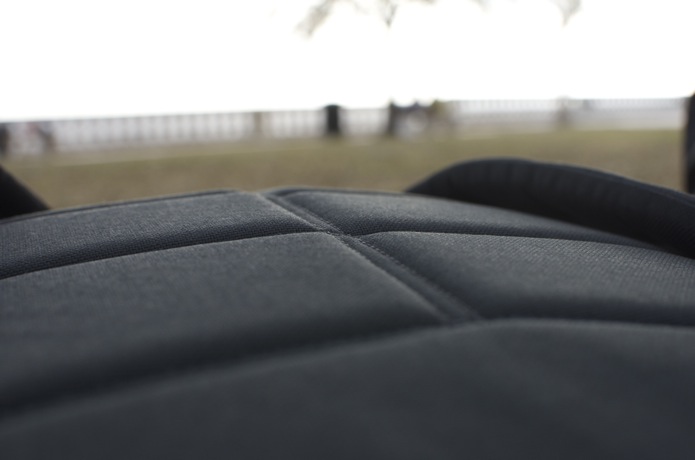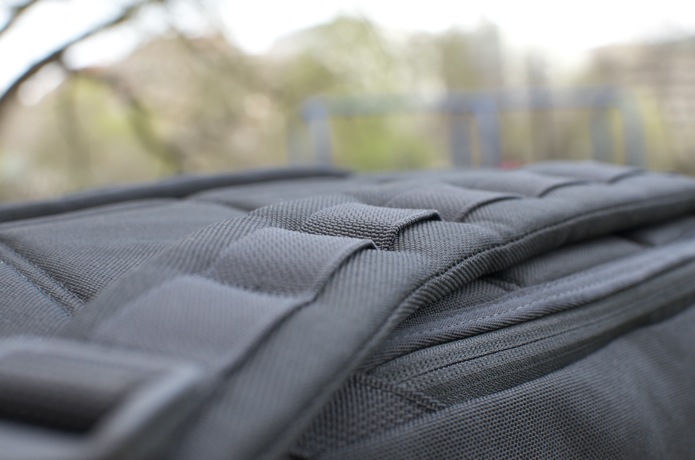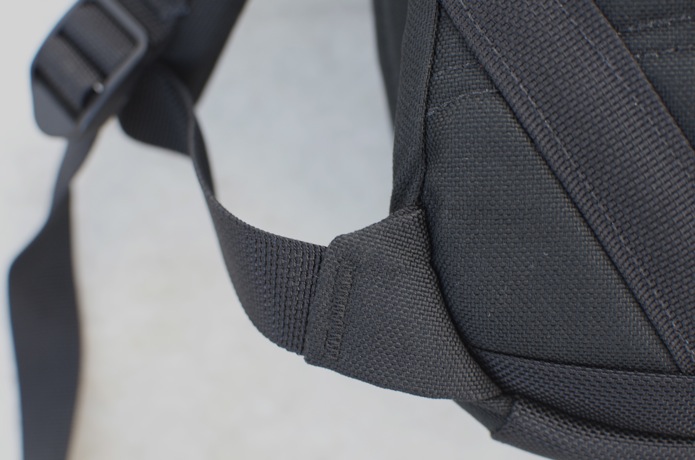 A small batwing coming out of the bottom base of the ruck where the back panel meets the side panel – and just above the bottom panel of ballistic Cordura. Notice the line of zig-zag stitching on the end of the batwing. This is a common though very heavy duty stitch called a bartack. And I love it. Its absolute strength is determined by the kind of thread used and the fabric used to bartack onto. It doesn't make sense to use the bartack everywhere — it's also unnecessary — but attachment points for shoulder straps are very high stress points on the ruck and so in this case it's vital. The bartack on our materials is strength tested at over 400 lbs – enough for just about any kind of abuse.

There are a lot of different buckles on the market. Some good, most bad. Our default is always to get samples of the best we can find and see how they function. Then we try to break the ones we like. When we can't, and they function well with our other materials, that's what we use. So, our buckles + our webbing — the friction that exists between the two matters for performance. More friction = less slip, but too much friction = too hard to adjust. We've put them through hell and they work well together and will be just fine. And we expect that you will, too.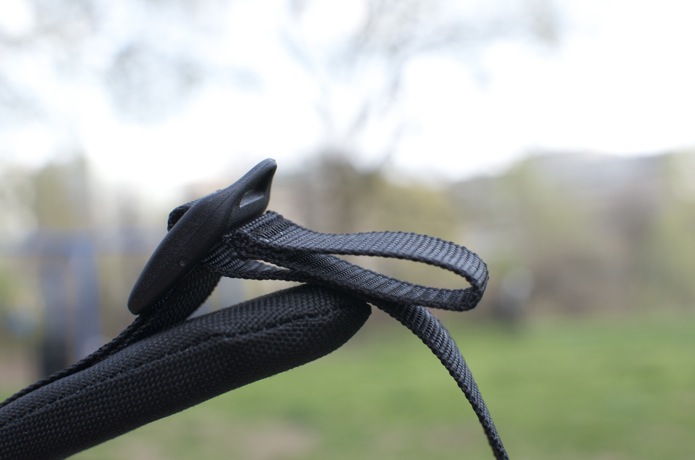 This little loop saves a lot of annoyance. The process of picking a stubby end of webbing out of a buckle sucks, so you'll never have to do that with ours. You can grab this loop easily and cinch the ruck down on your back according to your preference. A small side note is that our rucks are meant to ride higher on the wearer's back, which puts more of the content's weight on your shoulders and back as opposed to your lower back and core. Less bouncing around is more stable, so if you're moving around a lot, you'll want to cinch the ruck down pretty tightly.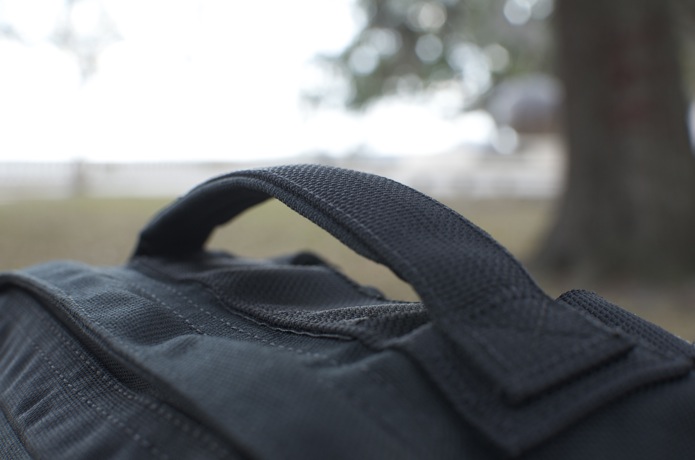 The carrying handle is padded and makes the ruck easier to deal with when you're taking your Echo on and off. I used to travel with all my super heavy military gear, and this padding was never to be found on anything, so my hands took a beating. The bottom line is that our carrying handle serves its purpose better because there's a little padding.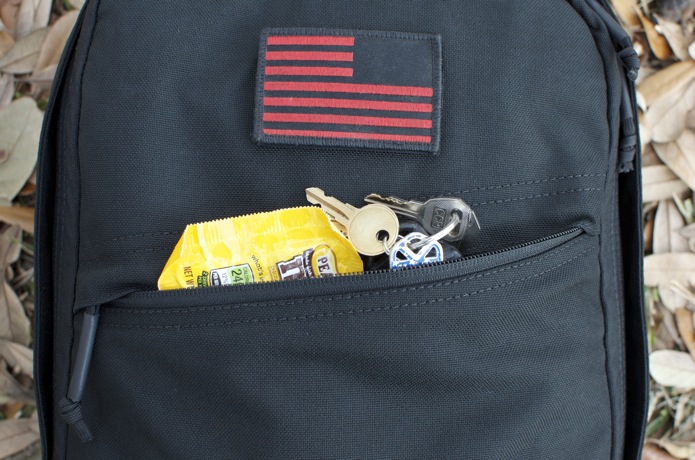 I put essentials in the front slant pocket. Like Peanut M&M's and car keys. The slant pocket is always easy to get at.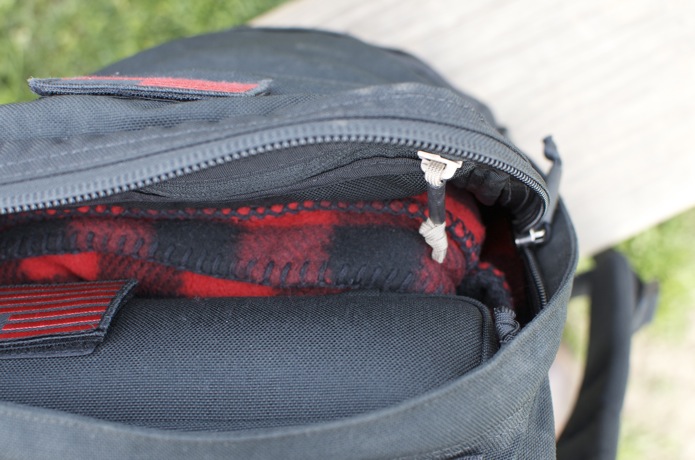 When you take the ruck off your back, you put it down (that's usually my process, anyway). Pretty quickly you'll get used to 'working' out of the top of our rucks. You can easily access the front slant pocket from above; you can also partially open the main compartment and then open the top internal pocket, which has a coyote colored zipper head and pull. What stuff you decide to put in which of these two pockets is up to you. Over time, our rucks become yours more and more, and you figure out how you like to set them up.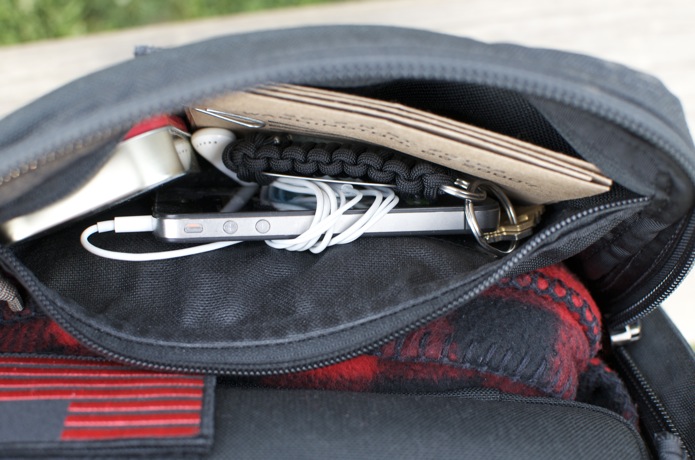 In the design of the top internal pocket, we never liked the idea of special sections for things like pencils or whatever else. I used to own those kinds of bags with all sorts of loud zippers and (not-so) special compartments everywhere, and I found myself never using them and wishing they weren't there. So the Echo's top internal pocket has no (not-so) special compartment. In our view, the whole pocket is special because you can do whatever you want with it.

This is the only label on or in the ruck, and it's sewn down to the top internal pocket. A little on the back story of how 'Echo' became "GR Echo". In a word, lawyers. Before the ruck was complete (time machine back to 2009), we had to name it and get labels done up, etc. We didn't have money to spare on legal counsel, but a friend of a friend knew a guy who agreed to chat with me for a few minutes about a few things. This was one of them — he said there were other brands that used the name Echo and that to avoid a lawsuit later on down the line, we should differentiate the name. So we did, even though we never called it anything but 'the Echo'. And while it pays to know a guy for everything when you're starting up, — it's all part of the fun of starting a business and learning how to ask anyone for just about anything — sometimes you have to make decisions that last based on a guy's 2 second investment of time. I don't know if this naming differentiation matters, but this was one of those 'better safe than sorry' moments, so GR Echo it was. And still is, sort of.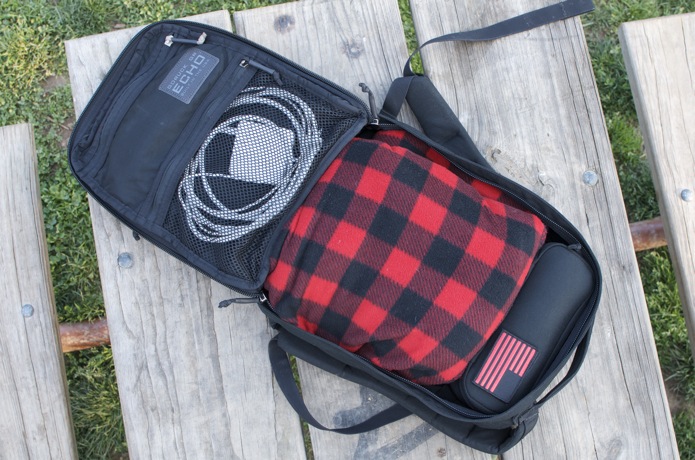 The Echo lies completely flat, a feature that makes it more fun to pack and allows you to be as precise as you want to be with weight distribution inside the ruck. Especially if you're planning to have it on your back for a long time, you want the internal section to be as stable as possible. More stability makes for less shifting around of the contents and less noise. If everything's moving around too much, the weight will shift from shoulder to shoulder and that's not as comfortable. And if you have beers or something like that in the ruck, more stability aids in reducing their foam upon opening. I use RR Field pocket at the top and have a blanket stuffed in (Java's makeshift bed when we're at an outside bar or something) to help with stability, but this could also be a jacket or change of clothes.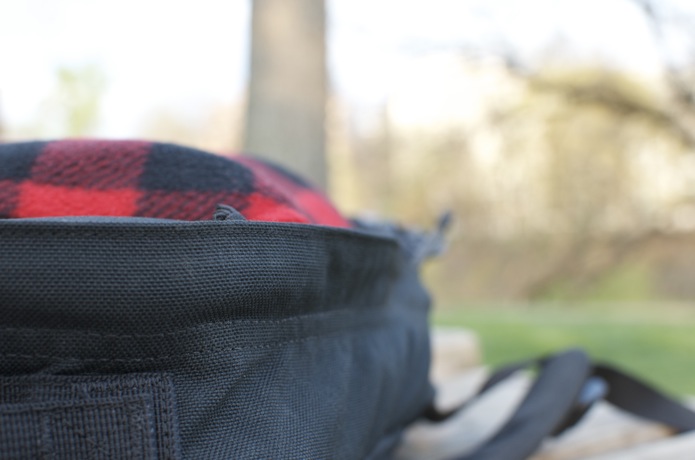 Lying flat. Also, this is another angle of the rain guard mentioned earlier. It's the section above the horizontal parallel running double stitch.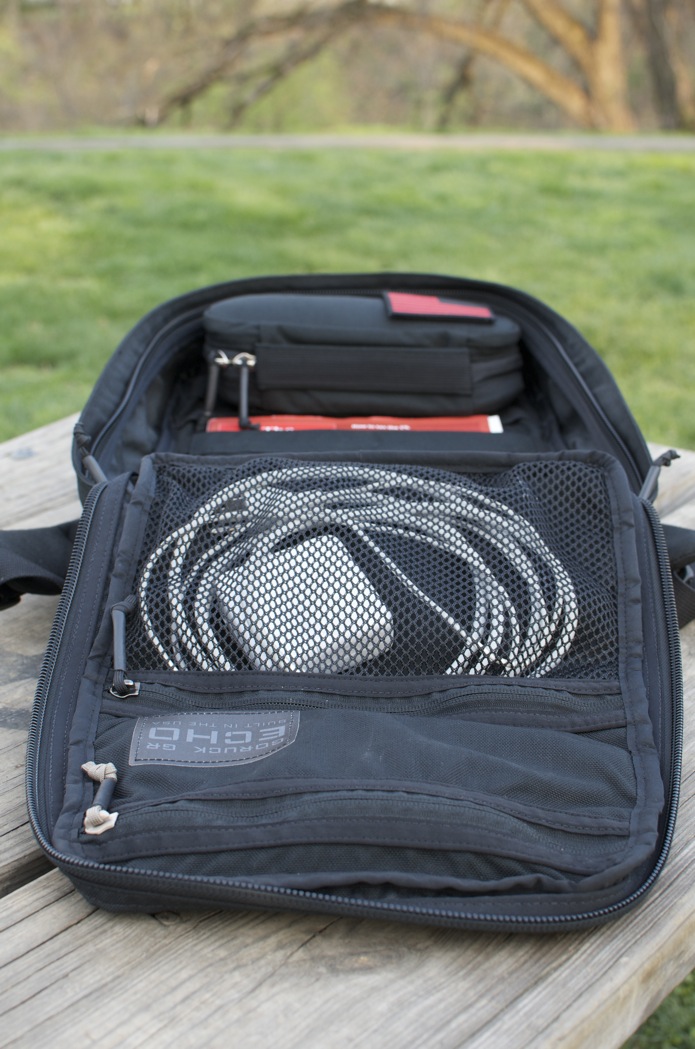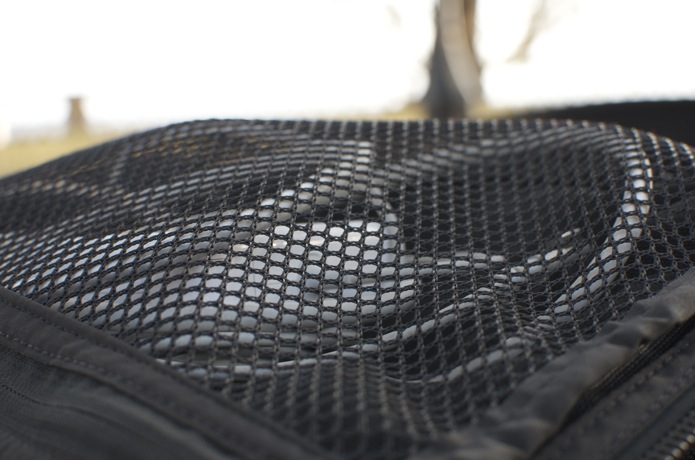 I always travel with a computer, which always has a power cord. This pocket made of military-grade mesh has become my go to for electronic wires, camera battery chargers – and other things like that that I want to be compartmentalized but also visible. If I have a bunch of wires in there, I don't always want to grab all of them out at once.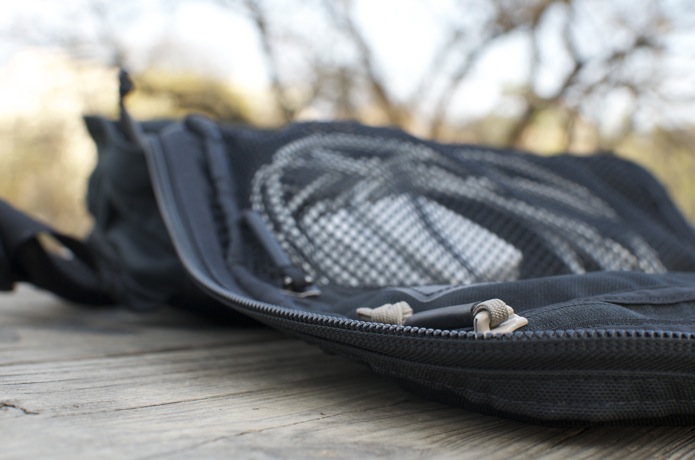 We get the question pretty often about why this zipper pull is coyote. It's a small detail – consistently found in all our rucks – and very subtle. People are visual, and over time you'll associate this zipper pull with this pocket — and eventually you'll associate this pocket with the kinds of things you like to put in it, and how you like to use it. If you ever want to customize your own pulls, you could buy some 550 cord in any color you like and replace ours with yours. We hope you'll make our gear your own; this is one pretty simple way to do that.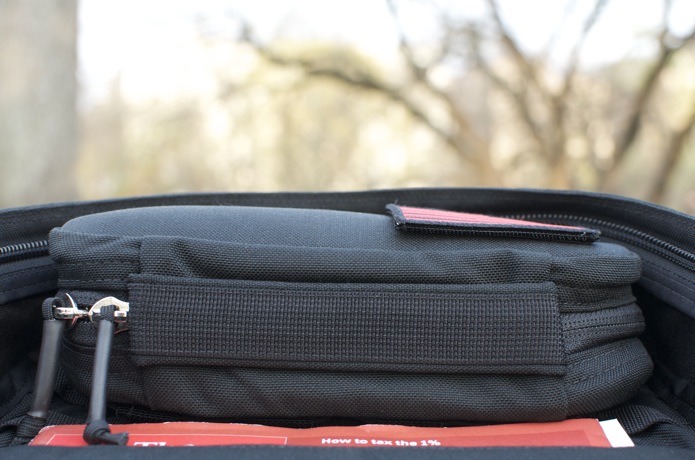 RR Field Pocket, which is sized perfectly to the MOLLE webbing at the top of Radio Ruck and the Echo. Check out Attaching Field Pockets Explained for that process. Having RR Field in the Echo gives you a little more internal compartmentalization, which can be especially helpful if you travel with a lot of electronics.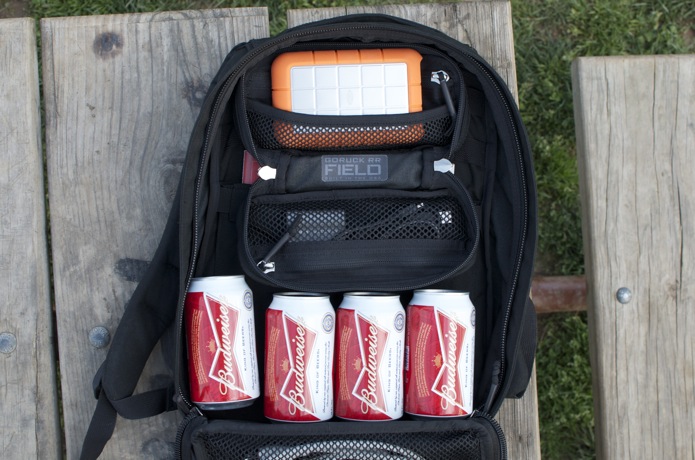 For instance, I prefer to segregate my external hard drive from beer or dirty clothes or whatever, and RR Field helps to that end. You never know when a perfectly good beer might explode inside your ruck.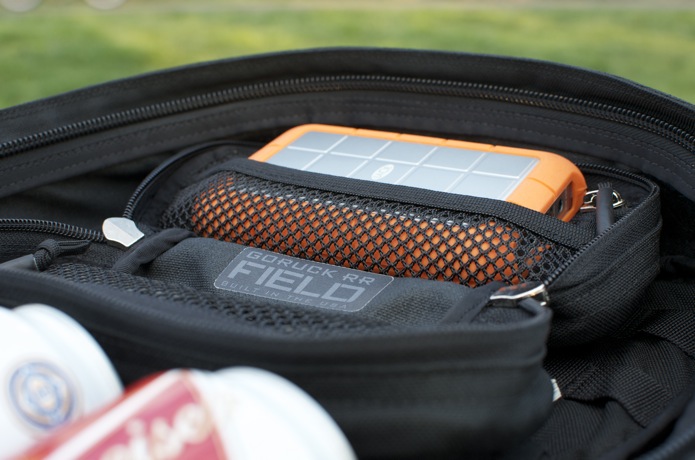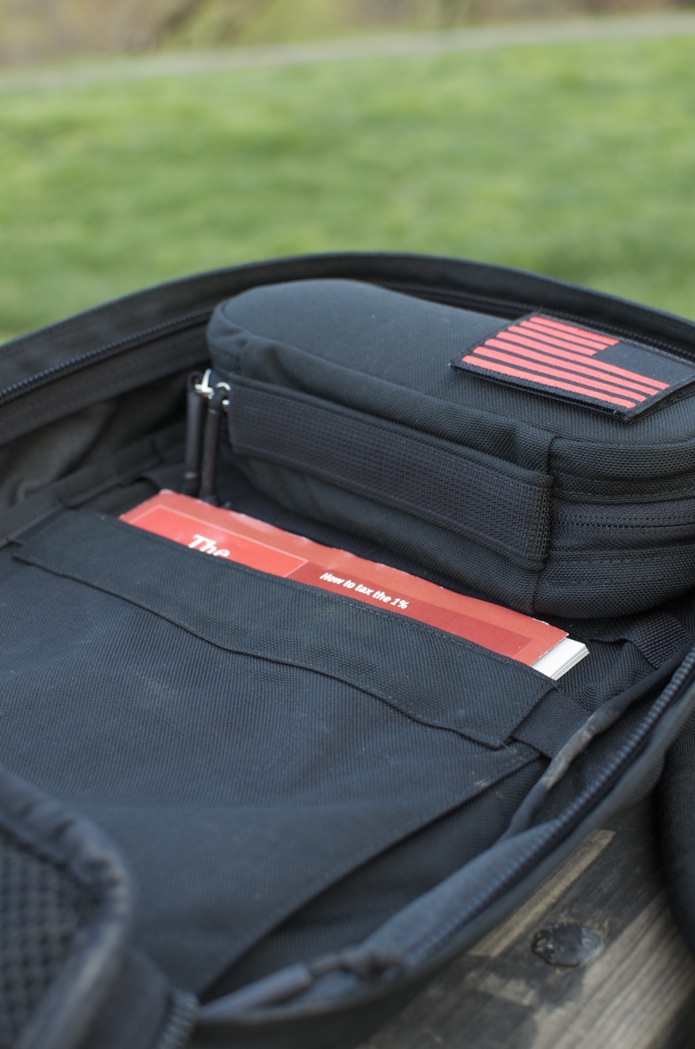 I use the internal sleeve for magazines or notepads, that kind of stuff. The top of it has an encased strip of elastic, which adds durability.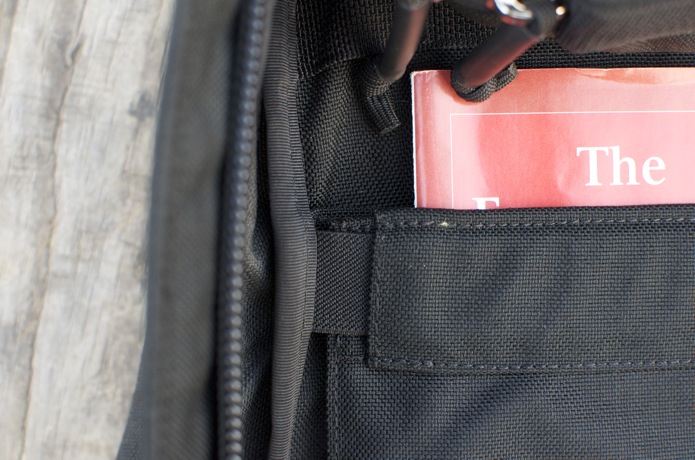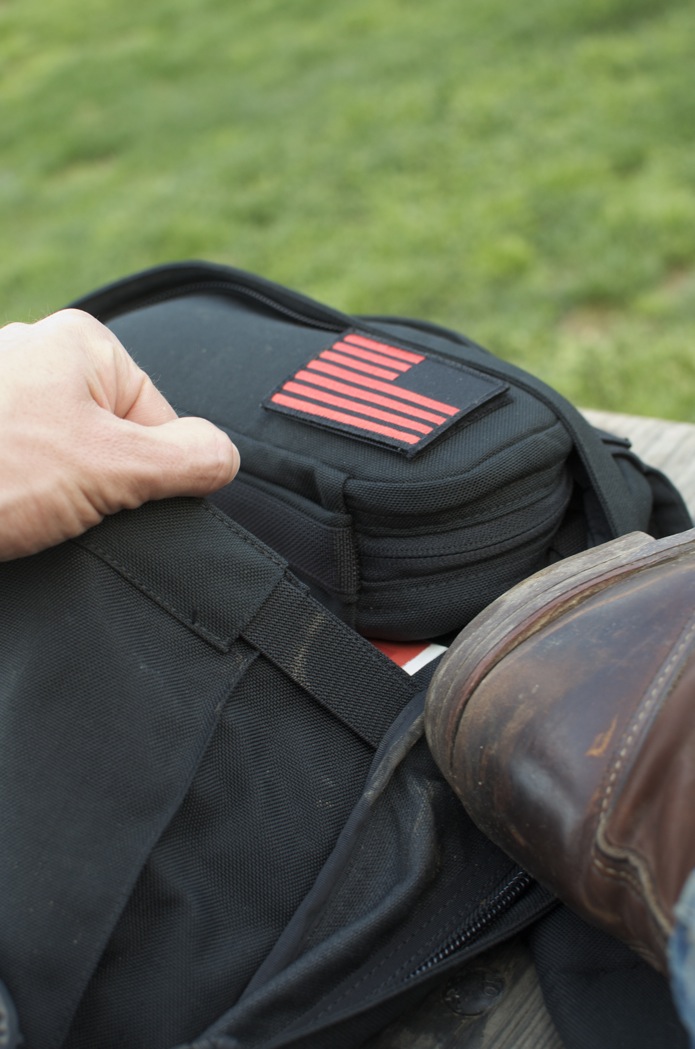 It opens up more than you might expect. This allows you to access contents more easily — especially if you have a RR Field attached inside the Echo. We also get the question about how this sleeve functions if you have the RR Field attached. Naturally, getting a magazine in and out of the sleeve is easier if you don't have RR Field attached, but it's no big deal to lift the sleeve up and move stuff in and out if you do. On a side note, a picture of me taking this picture would probably be worth a lot of laughs.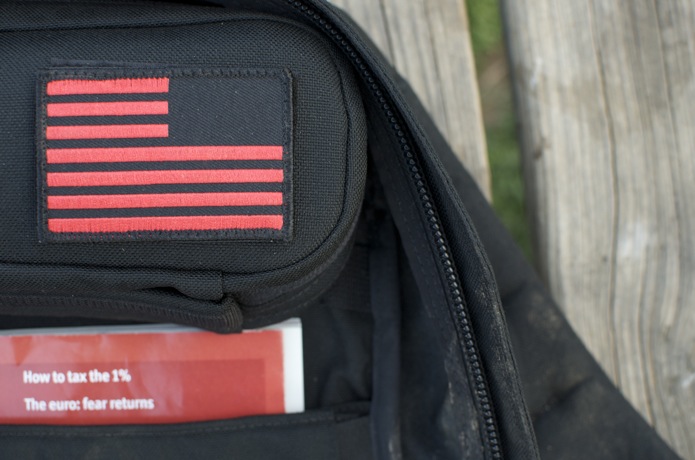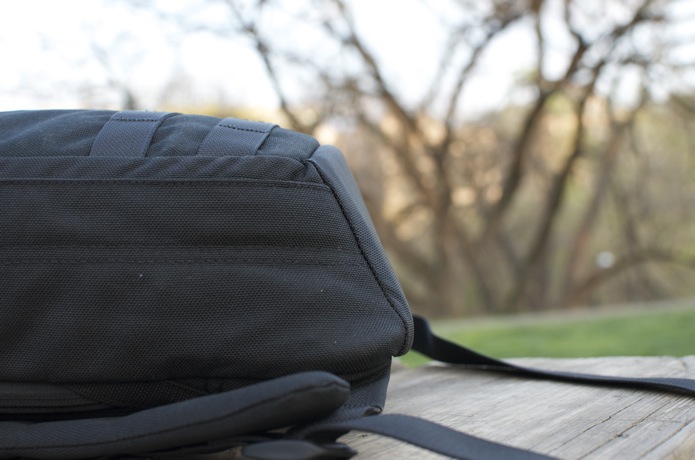 The slant at the bottom of the Echo is present, in varying degrees, on all our rucks. This is another subtle thing, and it comes with a tradeoff. Packing light in an organized fashion used to be a matter of life or death for me — at least we treated it as such back in my Special Forces days. I learned about what was comfortable, and why, based on how I packed it. A 4 day patrol with 100+ lbs on your back had these kinds of small, silver linings. One thing that I learned was that the closer any items of significant weight were to my back, the better. This very subtle slant has a way of pushing heavy things toward the wearer's back — think about it in terms of my beer cans. My beers are weighing down the bottom of the ruck, but they're more likely to stay closer to my back because of how they're packed there, with a blanket on top to fill some space.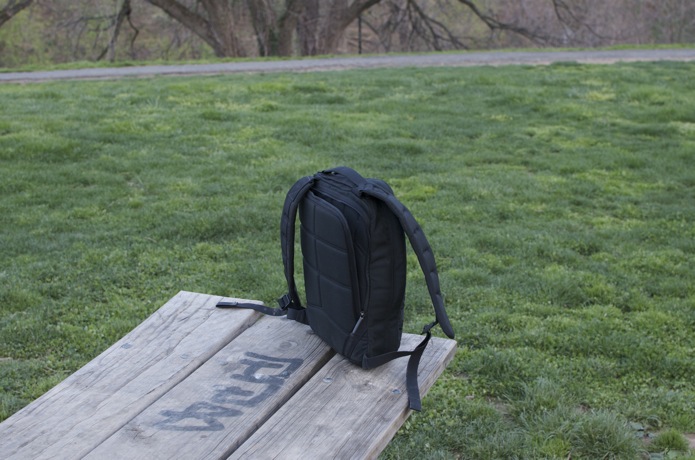 The other part of the tradeoff is that the Echo is less likely to stand up straight, on its own. In the picture above, though, my beers are weighing it down pretty well, and it's fine on its own. But this is the exception, not the rule. Most of the time, the Echo won't stand up straight on its own. In those instances, it'll be better served on your back or lying down flat. Our other rucks have the same issue, but there's more space at the bottom of the ruck. When weighted down, they rest standing up just fine.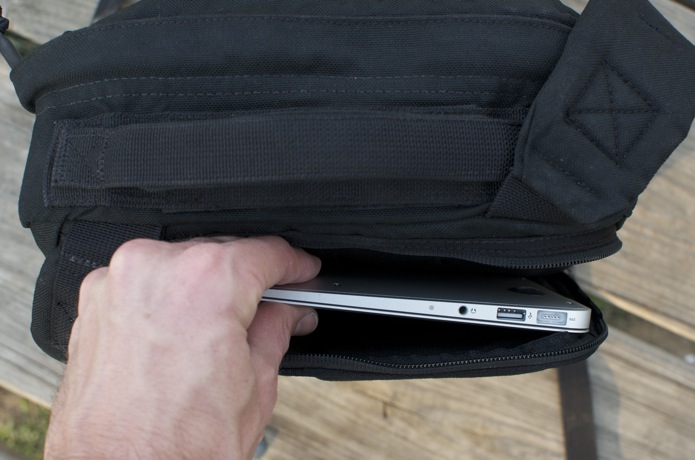 Earlier I mentioned that you'll become used to working out of the top of the Echo. This includes the laptop compartment. The Echo comfortably houses an iPad and up to a 13″ MacBook Pro. Pictured above is me grabbing at my Macbook Air.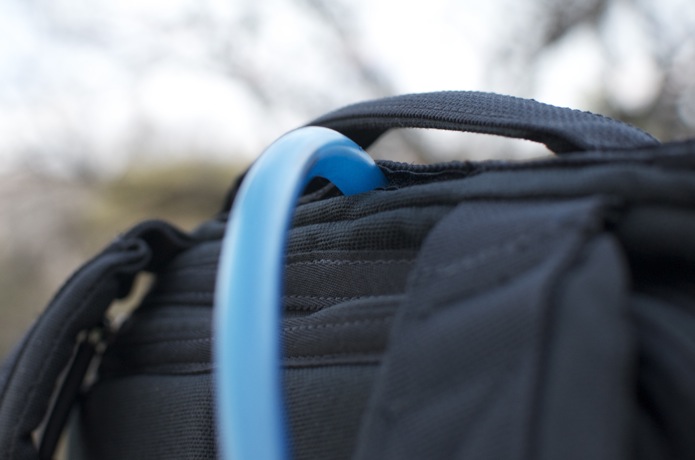 Based on what you're doing, you can put a hydration bladder or a laptop in the compartment next to the wearer's back. But preferably not both — laptops and water don't play well together. And the bladder's tube comes out of a Velcroed down section underneath the padded carrying handle.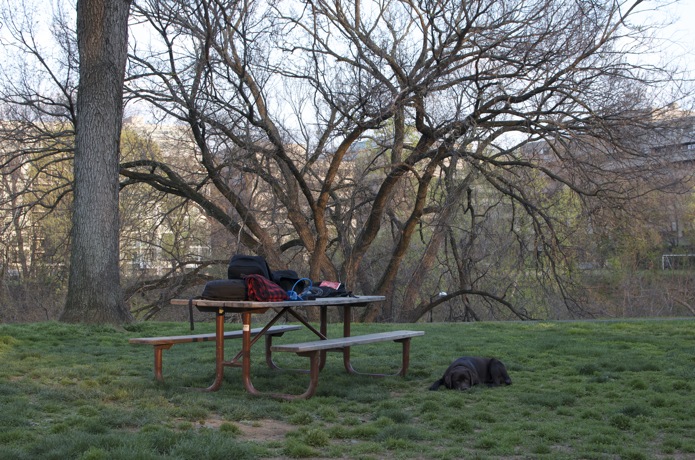 Behind the scenes. I find a spot I like and set up shop. For this one, Java was either chasing squirrels or faithfully by my side. (He has a well documented case of separation anxiety.) I took photos of the Echo over the course of three days (one day was in Jacksonville, FL, two at Rose Park in DC) and intended initially to do some relative sizing pics as well, meaning Echo vs Radio Ruck — hence all the different rucks on the picnic bench — but the way it played out, I want to save that for a separate post. Echo Explained, from start to finish, took a lot of time (~20 hours) with my camera and then in front of a computer, drinking beer, cursing this or that shot I forgot to take. So then I get my camera again, etc. And I don't have a single complaint in the world. I feel blessed to get to do this stuff, and hope to meet as many of you all as possible face to face, which I always prefer to sharing photos.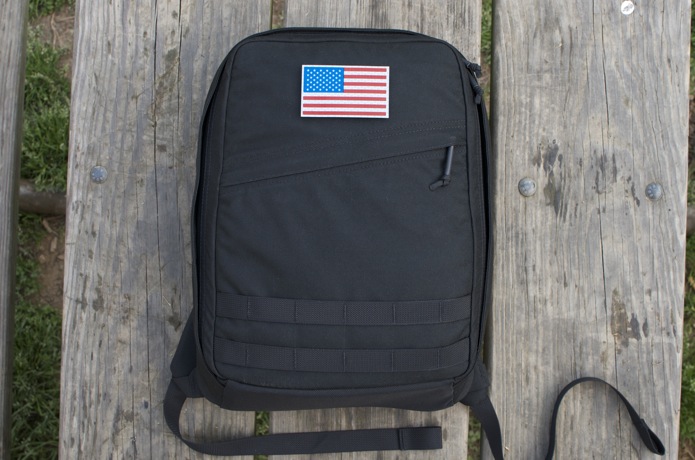 One of my old uniform flag patches was next to the door on my way out and I grabbed it just in case, cause options are a good thing. Gear is cool, better gear is even cooler, and our goal is to make the best. But we at GORUCK want to be so much more than just a gear company. It's our aim to promote the causes we love and support: the US military, US manufacturing, and local pride — as well as just do right by people, who make everything better. People we meet face to face and people we hope to. My past has a way of consistently resurfacing and reminding me that there are no short-cuts, no second chances to do right the first time. And the flag I wore is the best symbol for me of that past and a desire to live up to it and the people who wear it for a living. So thanks for all the support, and I hope you continue to expect big things from us.