We've been shipping orders since 2010. First it was out of my condo in Washington DC, then it was in Colorado, then Bozeman, then Seattle. Each move was the product of growing pains, each transition the foundation of considerably more. As of today, we are shipping all orders out of a Newgistics Distribution Center (DC) in
Hebron, Kentucky
. And by "we" I mean our partner, Newgistics, is doing this for us. This means that they own the building, the staff, the process, and they bill GORUCK per order. The reasons are lengthy for this switch, but the most important one is pretty simple: Order Fulfillment isn't what we do, it's something we've had to do to get our gear to you. Our livelihood doesn't depend on being great shippers all the time, which has led to inefficiencies. Newgistics is in this space because it's what they do and their livelihood depends on it.
Our goals in switching to Newgistics, a 3PL (3rd Party Logistics) Company:
(1) Focus on what we do best: GORUCK Gear and GORUCK Events. We're not a shipping company because we haven't had to be. To provide more consistently fast and on-time shipments to you no matter the season, we needed to partner with a team of people who eat and breathe shipping and logistics. It's a highly competitive business, with huge seasonal shifts (Christmas being much busier). While I believe our team in Seattle had gotten to a great point (>.05% error rate in shipments out the door), we'd rather focus on growing GORUCK Nation than on growing and managing our order fulfillment process and team. Yes, in terms of human capital and leadership, it's always a trade-off. Newgistics lets us focus on what only we can do.
(2) Pick a central location with faster ship times to more of America. If you live in New York City and wondered why Ground shipments use to take so long … it's because they were coming from Seattle. There's a different business model out there which says, have ship centers all over the place so you can reach all or most of America via Ground in a day or two. We're simply not there yet. Splitting inventory is a tedious process, managing split inventory more so. We just don't have the volume yet to justify this. It's a lot simpler to have one distro center with all of our inventory. Kentucky is a great spot to just have one distribution center. On top of this, shipping rates will decrease because we leverage Newgistics' scale (more aggregate shipments by all their partners leads to better rates for all their partners) and we're better geographically positioned. That means on average shipping costs decrease. And Ground shipments to more of the USA, including the East Coast, will arrive much faster.
(3) Further consolidate Key Personnel at GORUCK HQ in Jacksonville Beach, Florida. Four employees are moving to Florida this year from Seattle, some to do completely new things – they've earned our support, and I'm humbled and grateful they're making the move. We will no longer have any employees in Seattle as of 2017. It's a great town and Washington is a great state and I've enjoyed our time there, but spreading out employees across the country has led to a lot of missed opportunities to communicate more effectively, and to strengthen our culture. We're at a point in time where we need to focus, and the only way we can do that is to all be together in the same location. I'm more excited about this than any other part of this whole move.
Here are some pics of the inside of Newgistics' Distribution Center. It's huge:
Here are a couple vids. Nothing super special, it's just so you can get a sense of the size of one part of this building.
That's Chuck at the end, he's managed this entire process for us, from Seattle. Below, here's our little corner of the building. I was in town after the first truckload had showed up, but before everything was there. By now, our shelves are full.
One question could be, why didn't you do this sooner? The biggest impediment was that we had to change the process  of doing Quality Control (QC) on our gear, at our manufacturing partner facilities. Our DC in Seattle was co-located with one such partner, and using it as a shipping center also allowed us to do QC on every piece of gear before it went out the door. The challenge of the last year and a half was to do upstream QC, at our vendors. That means that when gear leaves their facility, it's ready to be sold (after it's received in Kentucky). Our QC team has to make more frequent trips during production runs to ensure our standards are met. This is a process that will never end, and the way we're doing it now is how it's supposed to be done. Collectively, these partnerships (manufacturing as well as now, distribution), and the people who manage them, are part of our foundation at GORUCK. We could not do what we do or focus on what we need to focus on without them, and I'm grateful for their hard work and dedication.
Ultimately, this is a great move for us. Our goals at GORUCK are to pioneer fitness with backpacks and strengthen communities across the country and the world. But sometimes you have to lay tracks to set yourself up for success. Operations is not a fun, or a sexy part of any business. It'd be great if we could just drink beer and ruck and be excellent. But that's not how the world works. Excellence yesterday is not excellence today is not excellence tomorrow. This move is better for everyone who orders anything from our website, and it's better internally for our team as well.
Win win.

After our first shipments had gone out, our team (and some of our families) went out with theirs to a Reds Game just over the Ohio River in Cincy. I've gotten questions over the years about how to start a company that makes it. And insofar as GORUCK has done that, it's because of the people. And the only best way to find solid partners and solid team members is to get to know them, personally. If you're just an email address, you're nobody. If you're an a**hole, even worse – so be nice. If you know someone personally, if you go to a baseball game or do something outside of work with them, if you forge a bond or a relationship based on more than spreadsheets and bottom lines, you'll be surprised how much more fun "work" can be.
You may even find yourself dancing in the stadium, like Mocha Mike.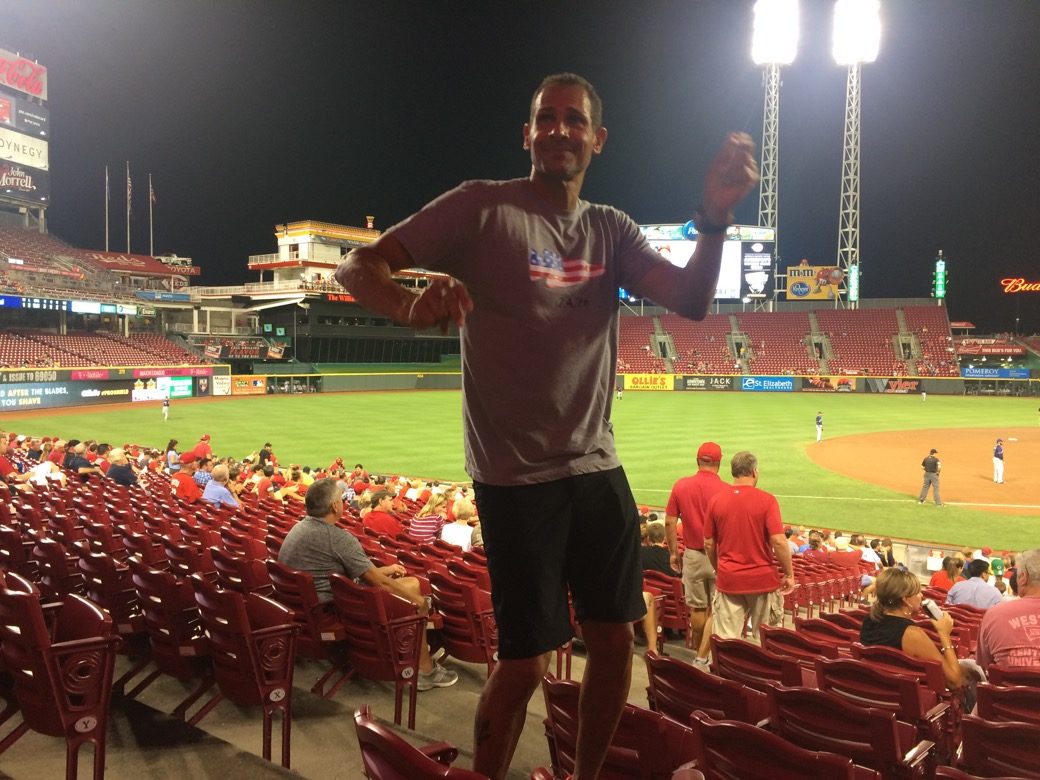 If you have any questions, ask away.
To test the process out for yourself lol, order some gear from goruck.com 🙂